GB YOUTH GAIN EXPERIENCE
TOM BRENNAN admitted it was a "bitter pill" to swallow after missing out on the European Under-23 Team Final.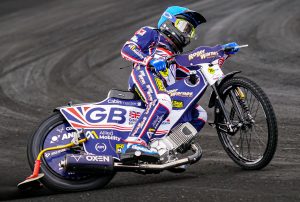 Image courtesy of Steve Hone Photography
Great Britain narrowly missed out on 2nd place overall when the Czech Republic finished just ahead in the final race of the Semi-Final in Stralsund, Germany on Thursday afternoon.
Brennan, 21, top scored with 12 points as GB finished third on 28 points behind winners Sweden on 38, Czechs 29 and Germany 25.
He admitted: "It was just one of those meetings I guess, very frustrating to end in that fashion. It was close throughout but we seemed to look in good shape until the latter stages. It was a bitter pill to swallow after leading the event with only two race each left to go. I was happy with my own performance but in the context of the result, I'm not happy obviously.
"It's always a massive learning curve. That's what these meetings are for.
"We are constantly reminded that this is all about the experience of riding in big meetings and on new tracks and surfaces. But we still want to win.
"It didn't happen for us today. But we've had fantastic success over the past few years and we will have more success again very soon.
"We still have a fairly inexperienced team at this level. Most of the boys hadn't ridden in Stralsund. I think it's just the manner of the way we missed out that hurts the most."
Great Britain scorers: Tom Brennan 12, Anders Rowe 8, Leon Flint 6, Drew Kemp 1,
Dan Gilkes 1.