GLOBAL CHALLENGE: Lineups Announced
GREAT BRITAIN boss Olly Allen is now looking to the future to build a squad for the five-man World Cup in 2023.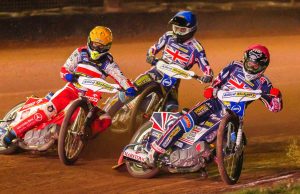 Images courtesy of Taylor Lanning Photography
Dan Bewley will lead GB at No.1 for the first time when they take on the Rest of the World at Glasgow on July 9.
But there's also call-ups for ex-British Champions Craig Cook and Charles Wright plus the in-form Kyle Howarth.
GB boss Olly Allen said: "The benefit of any test series is to get a look at every rider at our disposal. With the new World Cup approaching next season, we need to give every rider a chance to impress and stake their claim for a place.
"Tai Woffinden and Robert Lambert were unavailable for this test so it was an ideal opportunity to look at the squad.
"Craig Cook and Charles Wright are former British Champions and should be pushing for a team place. Likewise Kyle Howarth is one of the most in-for British riders right now in both UK leagues."
The Rest of the World will boast Grand Prix aces Max Fricke and Jason Doyle plus high-class American Luke Becker. There's a return to Glasgow for Rasmus Jensen and outings for highly-rated Norick Blodorn and Dillon Ruml.
GB will also field Speedway of Nations gold medal winner Tom Brennan and Jordan Palin.
Allen added: "This is a stern test. The Rest of the World have two quality Grand Prix riders and it will be important to get another good result in the Global Challenge Series.
"We are looking forward to coming back to Glasgow. The test match against Poland last year was excellent. The weather didn't play ball last year but it was a great occasion and result for the team.
"We need to keep working hard to be as inclusive as possible for all the squad. This is a big chance for all the boys to be part of the five-man World Cup team in 2023.
"This will be a cracking contest in my mind. Doyle and Fricke are two of the outstanding stars in world speedway and I'm looking for a strong performance from our team and to see how they compete against the best."