GRAND PRIX 2022 PREVIEW
Great Britain's Speedway of Nations winners are preparing for their next challenge – with the 2022 Grand Prix series starting at the end of the month.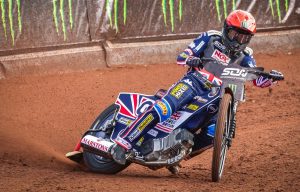 Image courtesy of Taylor Lanning Photography
The chase for the individual World title gets underway in Croatia on April 30, and all three of GB's senior SoN heroes are involved as full-time members.
Treble World Champion Tai Woffinden booked his place as of right with his sixth-place finish last year, whilst Robert Lambert's top ten finish in his first season was enough to see him get the nod for a nominated berth.
And with World Champion Artem Laguta unable to defend his title due to the political situation in Eastern Europe – and last year's bronze medallist Emil Sayfutdinov ruled out for the same reason – Dan Bewley has also received a call-up to the series.
It will be the first time Great Britain have had three permanent Grand Prix riders since 2004 when they were represented by the late Lee Richardson, Scott Nicholls and Mark Loram, in the previous format where there were 24 competitors in each event.
Bewley enjoyed a breakthrough season last year, playing a key role in Wroclaw's Polish Ekstraliga triumph as well as finishing a most creditable fifth in his debut Speedway Euro Championship campaign.
And having initially been named as second and first reserves respectively for the SGP series, Bewley and Australian racer Jack Holder were the two to benefit from Laguta and Sayfutdinov being forced out.
Bewley said: "Obviously I'd have liked to earn it with the normal path, but if you put yourself in the right place, good things come to you.
"It would have been nice to do it a different way, but we're in – so I've just got to make the most of it, and I'm really looking forward to it."
Bewley, Lambert and Woffinden were all back in the UK in the opening week of the season to compete in the Peter Craven Memorial Trophy at Belle Vue.
Woffinden was the highest placed of the trio in third place as Michael Palm Toft took a shock victory, with Matej Zagar as runner-up.
But Lambert admits the memory of last October, when he and Bewley outscored Polish duo Bartosz Zmarzlik and Macej Janowski in the SoN Grand Final after Woffinden had been injured one day earlier, will live with him forever.
He said: "Walking back into Belle Vue there were still flashbacks of that evening, and those are memories that will stick with me for the rest of my career and my life.
"We're pretty busy again this year, we've got a fair bit on, and it's a new season with new goals.
"It's another season to be able to push things forward and to try and make some steps up in the ladder."
The 2022 Grand Prix season is the first to be run under the promotion of new rights holders Discovery Sports Events.
A twelve-round schedule is proposed, but only ten venues are confirmed as the planned round in Togliatti has unsurprisingly been cancelled, whilst the series is due to complete at an unnamed Oceania venue on November 5.
Gorican kicks things off on April 30, and there are four rounds in Poland - at Warsaw, Gorzow, Wroclaw and Torun.
Prague remains on the schedule in late May as well as a return to German venue Teterow, whilst the British Grand Prix is back at Cardiff on August 13, for the first time since 2019 after two pandemic cancellations. Back-to-back rounds are scheduled for Vojens and Malilla in September.
Zmarzlik, Janowski, Woffinden and Fredrik Lindgren are the four qualifiers from last year, with nominated spots going to Lambert, Leon Madsen, Jason Doyle, Anders Thomsen and Martin Vaculik.
Last year's Grand Prix Challenge was won by Pawel Przedpelski, with the Pole making his debut in the series, whilst Max Fricke also booked his place from that event after finishing eighth last year, and former World No.2 Patryk Dudek returns after a year out.
SEC winner Mikkel Michelsen follows in Lambert's footsteps from 2020 by booking his GP place via that route, with Holder and Bewley competing the line-up of 15 regular starters.
Latvian star Andzejs Lebedevs now becomes the first reserve, followed by the two riders who fought out last season's World Under-21 Championship – winner Jakub Miskowiak and runner-up Mads Hansen.
The Speedway of Nations, meanwhile, has a new compressed format this year, running over a four-day period in late July at Danish venue Esbjerg.
The key changes are that the Final is now a one-day event, and nations will be able to select three senior riders rather than two seniors and an U21 as in previous years.
The Under-21 team event, now branded as SON2, will take place as part of the week's activities, whilst the individual World Under-21 series becomes SGP2 with rounds during SGP weekends at Prague, Cardiff and Torun.
Organisers have also announced the hugely popular Speedway World Cup format will make a return to the calendar in 2023, on a three-year rotation, with the full tournament to take place at Torun.