Great Britain Win Hungarian Semi-Final
GB boss Olly Allen praised the "strong attitude" of the riders as Great Britain won the FIME European Pairs Championship semi-final.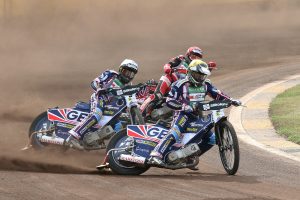 Images courtesy of Michal Krupa
Adam Ellis, Chris Harris and Tom Brennan delivered a 27 points return to take victory in the tricky event in Debrecen, Hungary on Saturday.
But Allen was quick to heap compliments on his side after booking their place in the final later this month in France.
He said: "I cannot fault the boys in how they performed. From the moment they were picked, all three were outstanding.
"For myself and my co-boss Simon Stead, we have always maintained that strong attitude is vital for every rider who pulls on the Union Jack racejacket. That's what we had got from the boys in Hungary.
"As the team manager I set my stall out early with the boys of what I wanted from the day. Job one was qualify but job two was that all the boys would ride. But qualifying comes first.
"We had worked out that Tom would be in the second race even though neither rider deserved to be left out. The riders were also aware that if someone wasn't pulling their weight, they wouldn't get as many rides."
Ellis was the top Brit scoring 14 points with Harris and Brennan alternating rides and scoring seven and six respectively in a thoroughly professional job.
Slovakia's Martin Vaculik was the top star on the day with 16 but GB stayed solid without scoring a last place. A vital 5-1 over the Danish pair Mads Hansen and Kevin Juhl Pedersen was the key moment to seal overall victory and qualification.
Allen added: "They were all brilliant. It's not easy when you are pulled in and out of races in a meeting. But the team spirit and attitude was spot on.
"The experience that Chris (Harris) brings to the team is priceless. He was brilliant all weekend. It's important for the younger riders like Tom (Brennan) to see how he deals with big events, the track and preparation.
"All the riders were aware that if we qualified we would not be changing the team. The final is in Macon in France which is familiar to all three of the boys picked.
"It was job done in Hungary now we move on to see what can be achieved next. I'm very confident going forward."