Great night for Britain
Great Britain delivered a hat-trick of Grand Prix Challenge qualifiers on a great night for British Speedway. Craig Cook, Robert Lambert and Chris Harris will all take their places in the Challenge in Gorican, Croatia on August 24.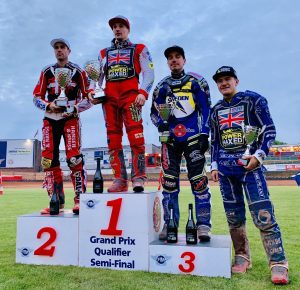 Cumbrian Craig Cook delivered a 15-point maximum in the Glasgow round with Robert Lambert finishing on 12 to finish fourth. Chris Harris scored 13 at the Lamothe-Landerron circuit in France, finishing second behind David Bellego. However it was a tough night for Dan Bewley in Zarnovica, Slovakia as his GP hopes vanished with five points as he still returns from a badly broken leg sustained last August.
After his classy win at Glasgow, Cook admitted: "It's job done really, It was always going to be a tough night but I did what I had to do. I'm delighted with the way it went, I had to make a few passes but I managed to get the results I needed.
"OK I'm just five rides away but that's still a big job in Croatia later in the year but for now this is all I needed to do and I'll go again when needed. I've made no secret of the fact I want my place back in the Grand Prix series, that's my goal for this season, so I'm halfway there now."
Cook passed Hans Andersen and then Niels-Kristian Iversen in his opening two races but was untouchable thereafter while Lambert was his usual swashbuckling self all night and was unlucky not to finish in the top three. He won his opening two races in ultra-quick style but then lost out to surprise packet Pontus Aspgren. Then he looked set to pass former team-mate Iversen before the Dane ruthlessly shut the door on him coming off the fourth bend. But Lambert secured his qualifying place by finishing second behind Cook in a crucial Heat 20, relegating former World Champion Chris Holder to third place.
Lambert said: "Tonight was just about getting through to the Challenge. I'm happy to have come through this round and now we can focus on the next one when it comes around."
Charles Wright can give GB a quarter of the Challenge line-up if he can make the top four in the final qualifying round on Monday night in Abensberg, Germany.