GREAT NIGHT FOR BRITS
Great Britain got its bold new era off to the perfect start with a comprehensive 53-37 victory over Denmark in King's Lynn on Wednesday.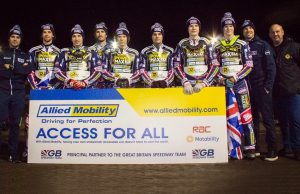 The Brits were led for the first time by new management duo Oliver Allen and Simon Stead, and they took on Speedway legend Hans Nielsen and his Danish septet in the first meeting of the Global Challenge Series.
GB got off to a nightmare start, with skipper Craig Cook touching the tapes and home hero Lewi Kerr being excluded in the opening race, but they soon got into their groove with victories from the impressive Anders Rowe and Adam Ellis.
After Rasmus Jensen soared to a win in heat four it was all Great Britain, with Kerr winning his second ride, Ellis superbly rounding Hans Andersen in heat six and Charles Wright and Dan Bewley both securing their first race wins for the senior national team.
After heat four, the only time Denmark took the chequered flag was in heat nine with Iversen. GB skipper Craig Cook joined the party with three wins and Drew Kemp ended his night on a high when he and Rowe sealed victory with a heat 14 5-1.
It was a dominant performance from the home side, with every rider recording at least one heat victory, and the perfect start for joint bosses Allen and Stead.
"I think everyone did themselves really proud and as first meetings go, it can't have gone much better," said Allen.
"All of the boys got stuck in and scored points and it's nice that it was a real team effort – everyone played their part and we were just solid throughout. Our two young lads, Anders and Drew, were brilliant really and it gave us some real strength at the bottom end.
"Denmark have some top riders but we were superb, and it's nice to end the season on a high with a good win."
As well as impressing on the track, Stead was suitably impressed with the application of his team off the track too, "It was really good to get everyone together for the first time and I have to say that the attitude of all of the riders was great – they really embraced it and rose to the challenge.
"Riding for your country is difficult but they just treated it like any other meeting and they delivered, so we can't have any complaints. I think both Olly and I learned a few things and can take a few bits and pieces forward for next year, so it was a really positive night all round and we're looking forward to the future – because it's an exciting one."
GREAT BRITAIN 53: Adam Ellis 10, Charles Wright 10, Anders Rowe 9+3, Craig Cook 8+1, Drew Kemp 6, Lewis Kerr 5, Dan Bewley 5.

DENMARK 37: Rasmus Jensen 11+1, Niels-Kristian Iversen 10+1, Matias Nielsen 5, Mikkel Bech 4+2, Hans Andersen 4, Kasper Andersen 3+1, Benjamin Basso 0.
All of the boys got stuck in and scored points and it's nice that it was a real team effort – everyone played their part and we were just solid throughout. Our two young lads, Anders and Drew, were brilliant really and it gave us some real strength at the bottom end

Olly Allen, Great Britain Team Manager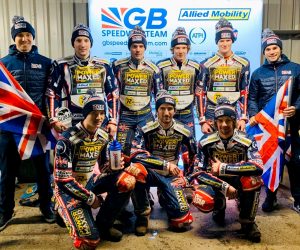 I think both Olly and I learned a few things and can take a few bits and pieces forward for next year, so it was a really positive night all round and we're looking forward to the future – because it's an exciting one

Simon Stead, Great Britain Team Manager