INSPIRATION CHRIS
THREE-TIMES national Champion Chris Harris admits he is delighted to be an influence on the next generation of Great Britain stars.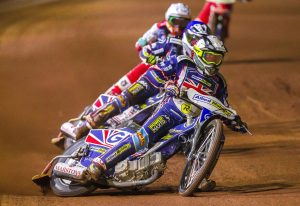 Images courtesy of Taylor Lanning Photography
The Truro racer is still delivering at the highest level, including an outstanding performance for GB in the win over Poland in Glasgow last October.
Harris, 39, was also a huge inspiration for Tom Brennan's excellent end to the season, including his displays in the Speedway of Nations win.
He said: "The youngsters look up to you and you think you need to set a standard.
"I definitely wish when I was starting out I had the opportunity of the Great Britain set-up now.
"We've been saying it for years before Rob Painter took over, that is what it needed and now it's first class.
"It's come at the wrong time for me but for the next generation, what an experience for them to come through this GB camp now. They are shown what needs to be done to reach the right standards.
"Back in my day that would have really helped the likes of myself, Olly Allen, Simon Stead and David Howe. We came into the sport and went to the bar after the meeting and had a few pints. Now they get into their vans and have their proper food, which is exactly how it should be for a modern athlete.
"I love being around the Great Britain camp. When I put that Union Jack on, there's nothing better or makes me more proud than representing my country.
"I always wanted to play a part in some way, so I'm glad I got a chance.
"I'm not a great talker and not for standing up in front of a crowd. But one-to-one, I'm good at that.
"You can't tell riders how to ride. But I can give them my experience and let them do it their way. But it's something I'll definitely look at in the future."