It's bike to the future for kid Bewley
Dan Bewley has stayed on two wheels to make sure he's in the best possible condition for when the Speedway season finally gets underway.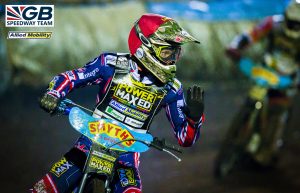 Image courtesy of Taylor Lanning Photography

The Cumbrian kid is now in lockdown for another three months after the British Speedway Promoters' Association rightly announced that the season will now not commence until June 15 at the earliest due to the coronavirus crisis. Also, with global health concerns over COVID-19, and health and safety issued by the Governments of Germany, Latvia and UK, the Fédération Internationale de Motocyclisme (FIM) and BSI Speedway yesterday took the decision to delay all three events in Landshut, Germany on April 25 and Daugavpils, Latvia on May 2 and Manchester on May 8/9.
Bewley, 21, admitted: "It doesn't really feel real right now. If someone told you about two months ago that we are going to get to the start of the season, do press day and then not ride, you wouldn't believe it. It's obviously a frustrating situation. It's my last year in the World Under-21 and I was probably in the Speedway of Nations team as the Under-21 rider. But it's all up in the air now.
"Hopefully we can race again soon once this pandemic is over. However, I've been on my push bike a fair bit, I've done 100 miles so far this week so I've been busy. There's a lot of things you can do now that you couldn't during the season, so it's not all bad. I've always thought it would be cool to do a coast to coast on a push bike, like Workington to Newcastle, it's about 140 miles I think. Then once you've done that it would be even more challenging to do a Land's End to John o' Groats ride, the full length of the UK. I can't do that right now within the Government guidelines, but it's made me think more that it's something I'd like to achieve."
Bewley recently took part in the GB Performance Training Camp in Southampton and admits the support of the national set-up is a huge psychological boost. He added: "There's so much as part of Great Britain with the camps that can do us good. For me personally, there's a lot of other stuff that makes a big difference to me. It's nice to know mentally that you've got help at hand from Rob Painter and all the backroom team, if you need anything.
"Obviously we've got our own teams but if anyone is struggling, I've got people to turn to like Olly Allen or Simon Stead. If you have an issue, someone in the GB set-up will sort you out if they can. You don't always need it during a season, but if you do need it, it's there for you as a safety net. Team building is always important for any team. If you can go to a meeting and have an instant conversation, it makes a difference. Now I feel I know all the team much better now after that weekend in Southampton. I feel that's a good thing to have."
*Read the full Dan Bewley story in the March 28 edition of Speedway Star out this week.
There's so much as part of Great Britain with the camps that can do us good. For me personally, there's a lot of other stuff that makes a big difference to me. It's nice to know mentally that you've got help at hand from Rob Painter and all the backroom team, if you need anything.

Dan Bewley