Kelly relieved to be racing again
Mildenhall fan favourite Elliot Kelly couldn't hide his delight at racing in front of a crowd again after the first two rounds of the British Youth Championships.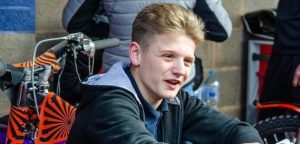 The 16-year-old, in just his second season in the 500cc category, finished third at the most recent round at Leicester behind hometown twins Dan and Joe Thompson. After such an unusual first half of 2020, Kelly is just happy that he is racing once more. He said: "It's not the same racing without a crowd, I'm a different person when I'm in front of a crowd, when there's people watching I ride better. I've always been like that, the one thing I've learnt in Speedway is to always put on a good show no matter what and that's how you attract sponsors and support."
2019 was Kelly's first year on 500cc bikes and he was part of the Mildenhall team which also included the late Danny Ayres. Kelly was reminiscent in speaking about his 2019 season and his former captain who many regard as one of the best showmen in the sport.
"I used to go and watch Redcar as a kid and he was in the team then," said Kelly. "Even back then he was always great to watch. I've always looked up to him throughout my career. Danny was my mentor most of last season, he was a really good help in the pits and as a captain he was the best in the league. It's tragic that he's gone. Danny at Speedway and Danny at home were two completely different people. He was always bubbly and putting on a show for the crowd whenever I saw him. Danny was just a character, no one really knew what was going on in his head and if you asked he'd probably tell you but he always seemed fine. Hopefully this encourages more people to speak out when they need it."
Kelly admitted that he struggled for consistency during 2019 with good points coming at home but away form lacking his high standards. But help from the GB Speedway Team has boosted the teenager's confidence ahead of the remaining British Youth Championships rounds.
Kelly said: "Now I'm with the GB Academy, I've had training days with Rory (Schlein) and Jason (Crump) and on both days I've been a completely different rider at the end. Jason changed how I approach practice. I used to think practice was boring and I'd want to go home. I would turn up and just ride the same line all day. He told me that when I practice I need to practice as if I'm racing, changing my lines lap by lap and tweaking setups so I will actually learn stuff. Almost as if there was another rider ahead of you even when there isn't. Leicester used to be one of my least favourite tracks but after spending the day there with Rory, it's now one of my favourites. That's just one day's difference."