Kemp focused on the future
Drew Kemp believes he is getting "stronger" every day after retaining his British Under-19 Championship in spectacular style.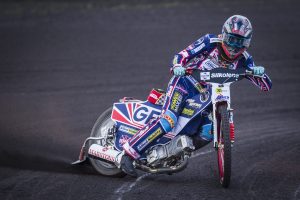 Image courtesy of Taylor Lanning Photography
The talented youngster delivered a polished performance to reel off five wins and take the title in Scunthorpe on Sunday evening.
It was the perfect preparation for Kemp as he now lines-up for his British Final debut at the National Speedway Stadium on Monday night.
Now Kemp, 18, reckons his racing is more resilient than ever before. He said: "I think it's important not to get too carried away with results. Just accept it and move on to the next.
"This week is a good example of that. I won on Sunday night but I need to keep my feet on the ground because it will be very hard in the senior British Final.
"I didn't dwell on it too long. We were straight to Ipswich for a practice earlier in the week, that was good to re-focus on a new meeting.
"I go into it with an open mind. I'm not setting myself an particular targets. It's possibly the toughest meeting I've been in and hopefully I can make a few good starts and get a decent total. I will give it all I've got obviously."
Kemp picked up his second successive medal for Great Britain in the World Team Under-21 Championship in Outrup, Denmark.
But he admits he has a burning desire to improve on the Silver and Bronze over the past couple of seasons.
He added: "The entire Great Britain Team is making really big progress I feel. But it would be such a massive thing if we could get Gold. I'm confident we can in years to come.
"It's amazing experience to be part of these meetings. But to be successful would be pretty awesome, so that remains the aim."