LAMBERT RACES IN GLASGOW!
ROBERT Lambert has been called-up to strengthen the Great Britain side for the latest Global Challenge Series clash.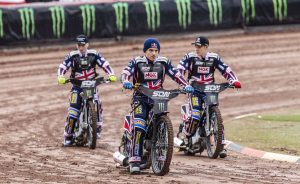 Image courtesy of Taylor Lanning Photography
The Grand Prix star will take his place in the line-up against the Rest of the World at Ashfield Stadium, Glasgow on Saturday (July 9, 3pm).

Lambert, 24, previously had a commitment clash but will now replace Jordan Palin in the team.
It means that three of GB's Speedway of Nations gold medallists last October will represent their country again in the Global Challenge Series.
GB team boss Olly Allen said: "It's a massive boost that Robert can now join up with the squad.
"As we've always said, these meetings are vital for us to assess all the boys as much as we can.
"Sadly the opportunities for us to get all the squad together are few and far between. It's important to build togetherness.
"Luckily we've had excellent meetings in Poznan and Pardubice for the squads and now Glasgow is a great chance to see where we are with a wider squad.
"Robert has been riding so well for his clubs and in the Grand Prix series, naturally we are delighted to have him back in to face a tough Rest of the World side.
"Our recent record in the Global Challenge is outstanding with wins over Denmark, Australia and Poland. It's all part of a building process to keep Great Britain on top of the world.
"It's disappointing that Jordan misses out. It is obviously no way a reflection of him, he has been an outstanding professional this year.
"His 10 points in Pardubice in the Euro Under-23 semi-final perfectly illustrates how far he has come. Glasgow isn't his strongest venue right now but he is in our plans every day."
GREAT BRITAIN vs REST OF THE WORLD
Global Challenge Series, Ashfield Stadium, Glasgow. Saturday, July 9 at 3pm.
GREAT BRITAIN : 1. Dan Bewley, 2. Charles Wright, 3. Craig Cook, 4. Kyle Howarth, 5. Robert Lambert, 6. Tom Brennan.
REST OF THE WORLD: 1. Jason Doyle, 2. Norick Blodorn, 3. Max Fricke, 4. Luke Becker, 5. Rasmus Jensen, 6. Dillon Ruml.
*Online tickets for the event are currently on sale at: glasgowtigers.co.uk
Alternatively, they can be purchased at the Ticket Office windows on the day. The doors will open for spectators at 1pm on Saturday, July 9.