MASSIVE TEST
GREAT BRITAIN boss Olly Allen has described the clash with the Rest of the World as "massive".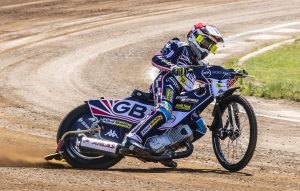 Images courtesy of Taylor Lanning Photography
The World Champions will take on a cream of top stars at Ashfield Stadium on Saturday July 9th in a mouthwatering event.
GB have got an excellent record in the Global Challenge Series with wins over Denmark, Australia and Poland already.
But Allen is only focused on the future and making sure that the next generation of young stars get into the winning mentality.
He said: "Every international for Great Britain is massive. We want to keep this momentum going.
"It's our last full team fixture before defending the Speedway of Nations in Esbjerg in late July.
"That's going to be very difficult but so was winning it in the first place. We don't need to fear anyone anymore.
"But it will be so important to get the squad together for Glasgow. It's vital we turn up and produce a very strong performance so we go to Esbjerg with a lot of belief.
"It is also an opportunity for us to look at the riders, bring in more youth and see who is ready for the next step into the senior side.
"The Rest of the World will be very strong, I know that for a fact. It's a big test for us and we need that constant pressure."
Allen also was quick to praise GB partners Allied Mobility and is looking forward to another epic encounter at Ashfield.
He said: "The work done on the track at Glasgow is out of this world. It is becoming such a great circuit.
"The Global Challenge against Poland last season was a great event despite difficult weather conditions. It was a great result for us against such a strong nation.
"But we must not forget that Australia came to Ashfield in 2018 and gave us a proper lesson. This is why we need these test matches.
"It is going to be another epic occasion and we are looking for a big backing from the fans and a great result for GB."
TICKETS AVAILABLE AT https://glasgowtigers.co.uk/