GREAT BRITAIN ANNOUNCE PARTNERSHIP WITH OXEN
The Great Britain Speedway Team has today announced OXEN as Official Kit and Teamwear Supplier.
The UK based British sportswear brand has signed a multi-year agreement to provide training kit for GB's senior, Under-23 and Under-21 teams plus management and performance staff.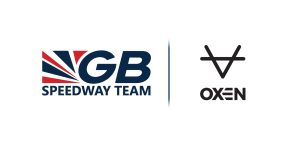 OXEN will also become GB's official e-commerce partner with the launch of a new online retail platform showcasing an extensive range of GB team kit and leisurewear.
OXEN, who have a strong presence across a variety of sports in the UK, are the official apparel and retail partner to England Rugby League across their men's, women's and wheelchair teams whilst boasting a wide retail selection through their e-commerce platform. They are also the technical apparel suppliers to Leeds Rhinos, Gloucester Rugby, Doncaster Rovers and several other professional sports teams.


We are thrilled to be partnering with Great Britain Speedway Team, this is a massively exciting opportunity and an introduction in to the world of Motorsport for Oxen. The partnership further strengthens Oxen's multisport presence on an international level. Across the 5 year agreement, Oxen and Elite Pro Sports will develop and distribute a full retail range along with staff and riders travel and training garments.

Lee Jenkinson, CEO Elite Pro Sports
The team behind OXEN, part of the Elite Pro Sports Group, are based in the UK and have been working in the sports industry for over 30 years. They are incredibly passionate about what they do and deeply understand the sports industry, which means they never compromise on quality, because they want their professional partners and their fans to perform at their best.
Rob Painter, Great Britain Speedway Team Managing Director said: "I was immediately impressed when OXEN announced a 10 year partnership with Leeds Rhinos in 2020, a fantastic statement of their passion and commitment to develop long lasting relationships. OXEN are recognised as a leading kit, sportswear and leisurewear manufacturer across many different markets and it is our privilege to partner with them as they take their first steps into motorsport."
Lee Jenkinson, CEO of Elite Pro Sports, added "We are thrilled to be partnering with Great Britain Speedway Team, this is a massively exciting opportunity and an introduction in to the world of Motorsport for Oxen. The partnership further strengthens Oxen's multisport presence on an international level. Across the 5 year agreement, Oxen and Elite Pro Sports will develop and distribute a full retail range along with staff and riders travel and training garments."
Find out more about OXEN at oxensports.com
Social Media
Facebook: OXEN Sports UK
Twitter: @oxensportsuk
Instagram: oxensportsuk