Woffy's back!
Great Britain Speedway Team is delighted to announce the return of two-time FIM Speedway World Champion Tai Woffinden.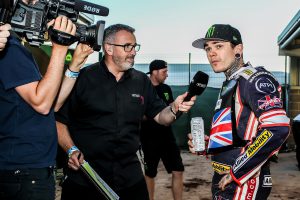 Woffinden, who kicks off his quest for a third World title in Warsaw this weekend in the first round of the Speedway Grand Prix series, has committed to Great Britain once again and will wear the Union Jack on his chest in the inaugural Monster Energy FIM Speedway of Nations tournament next month.
After hours of crunch talks with the new GB Management Team, Woffinden confirmed his decision last week and now has full focus on leading his country, saying; "I am delighted to be back in the fold and I'm actually really excited about the future.
"Everybody knows why I took a step back and I'm not going to focus on that, it's about looking ahead and trying to get Great Britain back to the top. I've had some really good chats with the management team and we have the same goals, we want the same things and that's really refreshing."
"I wouldn't have come back if I wasn't sure that we're going in the right direction, I'm ambitious and I want to win so it's important for me that the management team want that too and I know they do. We've got some good young riders coming through so I want to help them and try and be a part of getting us to the top, I wouldn't be back if I didn't think we could do it," continued Tai.
"I have always loved representing Great Britain and I did miss it, I seem to be able to find an extra ten percent when I race in these meetings so I'm excited to ride in front of my home fans again – it's going to be a good week and I hope everyone gets behind us."
The news comes as a huge boost to team boss Alun Rossiter, who is delighted to welcome Tai back into the team.
"I always hoped that Tai would come back but obviously there were some hurdles to get over first, now he's made himself available for selection again it's a big boost for us.
"He has been there and done it, he knows what it takes to get to the very top and his experience is going to be massive for us, not to mention the fact that he's one of the best riders in the world. I am over the moon that he's back with us and I'm sure the fans will be too."
Woffinden had several meetings with Managing Director Rob Painter, who knew that it was vital to have the Scunthorpe-born star on board, "We have always known how important it is to have Tai racing for Great Britain and it was obviously a priority of ours when we took over. We wanted to make sure that Tai was part of our long-term project, not just one week in June, and he is totally committed to that.
"Tai is a world class rider and he's passionate about moving Great Britain forward, so it's fantastic news for everyone involved."