PARTNER FOCUS - ATPI
ATPI have been hugely instrumental in leading Great Britain back to the top of the Speedway world.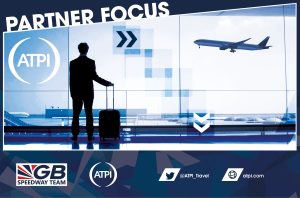 The ATPI Group provides world-leading corporate travel and events solutions to organisations operating in a variety of specialist sectors around the world. Comprising of ATPI Corporate Travel, Direct ATPI, ATPI Marine & Energy, ATPI Corporate Events, ATPI Mining and Resources and ATPI Sports Events, each brand is united by the aim to deliver what really matters to every single customer.
Through its network of over 100 worldwide offices in strategically selected locations, the ATPI Group combines specialist experience and deep-rooted expertise with innovative technology to provide the services, savings and security that matter most to our clients.
ATPI is one of the most experienced and long established travel management companies in the travel industry, with parts of the business trading since 1919.
CEO Ian Sinderson has been a key figure in the youth development of the national team and a new generation of British stars.
ATPI are major backers of Great Britain, the GB Academy and British stars Tai Woffinden, Dan Bewley, Robert Lambert, Adam Ellis and Belle Vue Aces in Manchester.
Sinderson believes the next generation can bring even more glory. He said: "ATPI are very proud of the success enjoyed by Great Britain in a very short space of time.
"There has, naturally, been a lot of focus and excitement around winning the Speedway of Nations in Manchester.
"But it's a building process. We must not overlook the plethora of podium places by the Under-19 and Under-21 teams on the world stage. They are the next generation.
"We have worked extensively on the GB Academy since day one of the new GB regime under Rob Painter and Vicky Blackwell.
"The fruits of that labour are now beginning to arrive. Both Dan Bewley and Tom Brennan were part of that Speedway of Nations win in October.
"Then you look at the next crop of riders, it's exciting that they've had so much knowledge given to them by the backroom team over the past four of five years.
"I firmly believe the best is yet to come. Speedway is an extremely tough sport, there are some great nations out there also with excellent youth systems.
"But Great Britain is now at the top table in the world again and showing that all the riders can compete at the highest level."
Sinderson was also quick to acknowledge that ATPI are delighted to be connected to such a successful squad and backroom team.
He added: "Rob and Vicky are first class to work with. ATPI have enjoyed a terrific partnership and benefited greatly.
"This can only go from strength to strength. We both have similar targets and methods for business. The future is very bright."
Find out more at: atpi.com or for an introduction to ATPI, contact vicky.blackwell@gbspeedwayteam.com

Social Media
Facebook: @ATPI_Travel_UK
There has, naturally, been a lot of focus and excitement around winning the Speedway of Nations in Manchester. But it's a building process. We must not overlook the plethora of podium places by the Under-19 and Under-21 teams on the world stage. They are the next generation

Ian Sinderson - ATPI CEO