PARTNER FOCUS - Rentruck
Rentruck have been a pillar partner of Great Britain's resurgence onto the world stage in Speedway. The Rochdale-based firm are sponsors in all levels of the sport with GB, the GB Academy, GB Youth Championship along with Manchester's Belle Vue Aces and Belle Vue Colts. In fact, Director Richard Cotton and family have been backers in the sport since 1979 after originally becoming sponsors of legendary England international Chris Morton.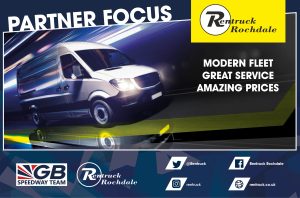 Over 40 years later, Rentruck are now a supplier of over 40 vans to Speedway riders and clubs in the UK.
Established in 1924 as a haulage business servicing the companies of Lancashire. JR Ashworth & Sons Limited evolved into a high-quality hire company, now known as Rentruck.
Since 1924, the company has undergone many changes to its structure. However, throughout these changes it has never lost sight of the heritage, values and personal touches it was born with.
Rentruck pride themselves on the level of service. Whether it is helping you to select the best sized van, comprehensive insurance policies or breakdown assistance; they are with you every step of the way.
If you do have a problem they are well equipped to help you with their 24-hour helpline.
With a fleet of well over 350 vehicles which are available for short-term hire and long-term lease throughout the Greater Manchester area.
Rentruck can cater for all your needs, from small cars to 4×4's, from VW Caddy vans to Luton box vans equipped with tail-lifts. They also offer specialist vehicles such as Glass-Carrier Vans and Welfare Units.
All their vehicles are fully sanitised and valeted before collection. As they are typically very late models, you can be sure they are in good mechanical condition.
The fleet also includes specialist temperature-controlled vans. These vans are capable of maintaining a temperature between + or – 25oc.
Many of the vehicles have been used in the supply chain of food and pharmaceutical industries nationwide – especially during the Covid pandemic.
Find out more at rentruck.co.uk or for an introduction to Rentruck, contact vicky.blackwell@gbspeedwayteam.com
Social Media
Facebook: Rentruck Rochdale
Twitter: @Rentruck
Instagram: rentruck
LinkedIn: Rentruck