Partner Focus - The Awning Company
Our heritage based on 30 years of experience, has forged a reputation for being the best in the business for providing all-weather solutions, for a variety of vehicles.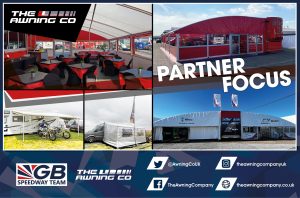 Here at The Awning Company, all of our products are made in our factories in Bolton, Lancashire, to ensure we have full control over the production process; to guarantee the quality of our products. Because of this, we have been awarded the Made in Britain marque – the official seal of approval to show that all of our products are manufactured in Britain.
We provide our customers with a unique product range, offering awnings designed to impress. Our strengths together with the company's reputation for providing high quality products and competitive prices, make us the automatic choice when it comes to awnings, vehicle awnings and awning design!
WHY CHOOSE US?
A family-run business with over 30 years' experience manufacturing temporary structures.
Bespoke awnings built specifically to suit a range of vehicles from large Formula 1 artic trailers to small panel vans.
Highly-skilled team who have worked within the business for numerous years.
All of our Awnings and Accessories are made in Britain and have been awarded the Made in Britain marque.
We have a number of GH Circuit Ambassadors and Dealers throughout the UK and Ireland.
Bespoke Awnings of immense strength at competitive prices.
Outstanding range of custom Accessories to accompany your awning.
PVC material that meets M2 flame retardancy standards.
Excellent Spares and After-Sales service.
Unrivalled experience in the paddock.
Return customers time and time again.
Unparalleled experience with the biggest worldwide racing teams.
Find out more at theawningcompany.co.uk or for an introduction to The Awning Company, contact vicky.blackwell@gbspeedwayteam.com
Social Media
Facebook: TheAwningCompany
Twitter: @AwningCoUK
Instagram: theawningcompanyuk
YouTube: The Awning Company
LinkedIn: The Awning Company UK