POLAND ROUND 1 REVIEW
Great Britain duo Tai Woffinden and Dan Bewley helped champions Wroclaw to a perfect start to the new PGE Ekstraliga season with a thumping home win over Torun.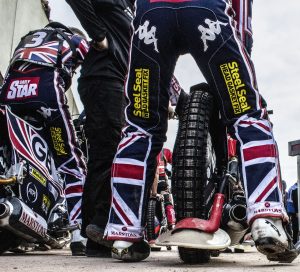 Images courtesy of Taylor Lanning Photography
The hosts dominated in a 59-31 victory inspired by a faultless 17+1 paid maximum from Maciej Janowksi, whilst Woffinden with 14+1 and Bewley with 13+1, both from six rides, were also in the major points.
The GB riders combined for a 5-1 in the very first race over national colleague Robert Lambert, who gained some revenge shortly after when he won Heat 5 in a 5-1 with Patryk Dudek with Woffinden third.
But Bewley brilliantly held Dudek at bay to win Heat 7 as Wroclaw stretched ten points clear, and another Woffinden/Bewley 5-1 followed in Heat 9 at the expense of Pawel Przedpelski and Jack Holder.
Bewley's only setback came when he finished last in an ultra-competitive Heat 13, but he hit back by defeating Dudek again in Heat 14, before Woffinden and Janowski combined for a brilliant finish by both passing Przedpelski in Heat 15.
The early evidence was that Wroclaw could handle the absence of Artem Laguta far more than Torun could cover for Emil Sayfutdinov, but it was still a largely satisfying opener for Lambert who scored 10 from six rides.
Elsewhere in Round 1, there were close finishes to both Friday fixtures with Leszno securing a dramatic 46-44 win at Czestochowa with Jason Doyle their hero in the last race as he split Leon Madsen and Kacper Woryna.
Meanwhile Mikkel Michelsen put on a masterclass at Gorzow as Lublin stunned the hosts 46-44 with the Dane getting the better of double World Champion Bartosz Zmarzlik on three occasions.
There was plenty of controversy with Dominik Kubera excluded from Heat 11 after clashing with home debutant Patrick Hansen, before Maksym Drabik sent Lublin into the last race ahead by winning Heat 14.
But the visitors were reduced to one rider for the decider when Jarek Hampel was excluded for his second offence of fractional movement at the start – and Michelsen, who had made the gate in the initial staging, then superbly went between Zmarzlik and Martin Vaculik off turn two to seal an away victory.
The opening round of Division One action saw Gniezno pull off a surprise 45-45 draw at relegated Zieona Gora in a weather-affected fixture.
Although Michael Jepsen Jensen dropped his only points with last place in Heat 15, team-mate Oskar Fajfer completed a 14-point haul by defeating Rohan Tungate and Max Fricke to secure a share of the spoils.
Elsewhere, Krosno led throughout proceedings at Gdansk and came away 51-39 winners, with Tobiasz Musielak and Andzejs Lebedevs both scoring 12+1 from five rides.
And in Monday night's fixture, promoted Landshut edged out Bydgoszcz 47-43, with Kai Huckenbeck and Dimitri Berge keeping Matej Zagar at the back of Heat 15 with the visitors having required a 5-1 to snatch a draw. Saturday's Lodz/Rybnik fixture was postponed.
In Division Two, relegated Tarnow were victorious in their first match at this level with a 46-44 win over Poznan, despite a 15+1 haul for Latvian youngster Francis Gusts at reserve for the visitors. The Rzeszow/Opole fixture was postponed.