POLAND ROUND 2 REVIEW
Robert Lambert was the highest scoring Great Britain rider in Round 2 of the PGE Ekstraliga with a 13+1 haul in Torun's victory over Ostrow.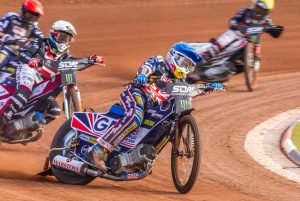 Image courtesy of Taylor Lanning Photography
The home side triumphed 55-35 to secure their first win of the season against the promoted newcomers, who are already strong favourites to make an immediate return to Division One.
Lanbert won two races, holding off the challenge of Nicolai Klindt to take Heat 6, and took another victory over the Dane in Heat 14 which resulted in a Torun 5-1 as Jack Holder also came through.
Chris Holder, back at his old home club, prevented a total rout with 14 points, whilst Patryk Dudek joined Lambert in scoring 13 for the hosts, the Pole being paid for 15.
Grudziadz are the somewhat surprising early leaders after toppling champions Wroclaw 49-41, despite a 15-point haul from Maciej Janowski.
Tai Woffinden added 10+1 from six rides for the visitors with Dan Bewley on 6+1, the latter defeating Krzysztof Kasprzak to win Heat 4.
The scores were level with five races to go but the big setback came in Heat 11 when Woffinden and Bewley were on the wrong end of a 5-1 to Przemyslaw Pawlicki and Nicki Pedersen.
The hosts added another 5-1 in the next as Gleb Chugunov was squeezed out, and a 4-2 to Grudziadz in Heat 13 with Woffinden at the back effectively sealed another reverse for Wroclaw at the venue.
Woffinden did finish the meeting with a win, passing Kasprzak in Heat 14 with Bewley third for a 4-2.
The drama of the weekend came in the Leszno/Gorzow fixture, and the 45-45 outcome is still a matter of some deliberation.
A sensational last-heat decider saw Janusz Kolodziej lead Bartosz Zmarzlik whilst his team-mate Piotr Pawlicki challenged Szymon Wozniak. The 3-3 would have been enough for the home side but Pawlicki tangled with Wozniak going into the last lap with Wozniak going down.
The race continued and Zmarzlik stormed inside Kolodziej going into the final bend – and after viewing a succession of replays, the referee excluded Pawlicki and awarded the race as a 4-2 to Gorzow, confirming the draw.
The contentious point is that the race was allowed to run to a conclusion, and the authorities must assess whether, with Pawlicki adjudged the cause, the race should effectively have ceased at that point which would have made Kolodziej the winner and still given Leszno a 46-44 win.
Meanwhile Lublin edged out Czestochowa in a last-heat decider with the visitors fighting back from 40-32 down to bring the scores to 42-42 with two successive 5-1s, the second inspired by Kacper Woryna and Fredrik Lindgren at the expense of Dominik Kubera.
But the hosts had the final say as Maksym Drabik completed an impressive home debut, scoring 16 points from six rides, by teaming up with Mikkel Michelsen for maximum points over Leon Madsen and Bartosz Smektala.
The result means Lublin and Grudziadz are the only two sides to have won their opening two matches, pending the confirmed outcome at Leszno, whilst Czestochowa and Ostrow are yet to get off the mark.
In Division One, five teams have two points with Rybnik top on points difference after defeating Landshut 53-37 in their opening fixture, with Grzegorz Zengota making a superb debut with a 17+1 paid maximum.
Lodz grabbed a big away win, 55-35 in Gniezno, whilst Bydgoszcz defeated Gdansk 52-38 with Kenneth Bjerre and Matej Zagar winning four races apiece.
In Division Two, Adam Ellis got his Polish season underway for Daugavpils, who raced to a commanding 59-31 win over Tarnow.
Ellis scored 7+1 from four rides, including a win in Heat 10 as he and Rene Bach took a 5-1 over Peter Ljung, and he then combined with Jevgenis Kostigovs to see off Troy Batchelor in Heat 11.
Elsewhere, Poznan romped to a 66-24 rout of newcomers Pila, whilst Rawicz defeated Rzeszow 46-42 with Tom Brennan picking up 2+1 for the hosts.
Brennan shared in a Heat 2 5-1 with Viktor Przyjemski, but suffered a fall in Heat 4 and was excluded, before running a last place behind Eduard Krcmar in Heat 8.