Poultec - An important component in the GB machine
Great Britain boss Olly Allen believes that he can go down the Pep Guardiola and Jurgen Klopp route to coaching success. Allen and joint Manager Simon Stead became the youngest supremos of the national side when they took the reins last Autumn.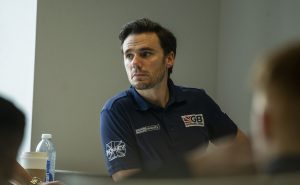 Images courtesy of Taylor Lanning Photography
The inspirational pair were pinpointed as being an integral factor in the fresh new outlook for GB in the coming years, including the introduction of the new Academy. It has become a growing climate in sport across all disciplines that the gap between being a competitor and coach is now much less time just like new Premier League and Champions League winner Klopp and Guardiola. Allen, 38, admitted: "There is no doubt that Simon and I have come into this role with such a lot of enthusiasm. I do think it's a more prominent aspect of management that the coaches are becoming younger. I'm confident that the current crop of young riders can relate to Simon and I a lot more in some ways.
"Personally it's nothing new for me. I've been in this role with Poultec Training for some time and this takes me to the next level. The great thing is that I have a huge pool of talent at my disposal. I have a constant flow of new riders at Poultec and then I get to work with the youngsters who are in the GB Academy and then the senior team. In some ways it's like I am a scout in my Poultec role for potential riders who can make the grade in the GB structure. It's excellent that Poultec is the grass roots pathway into the GB structure."
Allen is confident with the current new generation of riders coming through the GB ranks but adds a cautionary tone that it will take time. He added: "I do think we need to talk up the young talent we do have. Robert Lambert is showing his huge ability in Poland right now. Dan Bewley is a couple of seasons behind him in experience, but he'll be fine. We know how good he is. Simon and I have to guide all the next generation about getting the entire package right. Racing abroad is a massive part of that education, that has to be done from a very early age. The preparation, diet, mental strength, mechanics, travelling is something that Simon and I were doing ourselves not so long ago. This is all about getting all the pieces of the jigsaw in the right place. It's about identifying what you need as a rider to succeed. The actual racing is just the end product of a huge preparation. You need all of it to be perfect to be a World Champion.
"We are lucky to have the most successful British rider of all-time in Tai Woffinden as our spearhead. He is living proof of what it takes and he will pass on that priceless experience to the younger guys. We've got a lot of work to do and a long way to go, but Great Britain now has the platform to give the best possible advice and help to every young rider in this country."
*Poultec Training applications are being taken now for new apprenticeships starting in September.
The great thing is that I have a huge pool of talent at my disposal. I have a constant flow of new riders at Poultec and then I get to work with the youngsters who are in the GB Academy and then the senior team. In some ways it's like I am a scout in my Poultec role for potential riders who can make the grade in the GB structure

Olly Allen, Great Britain Speedway Team Manager