POWER MAXED GB!
GREAT BRITAIN will "fight to the wire" to defend their Speedway of Nations title, according to Automotive Brands MD Adam Weaver.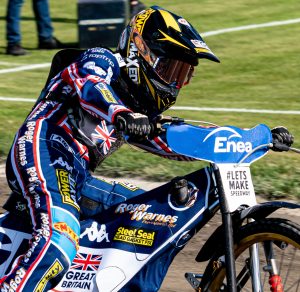 Images courtesy of Steve Hone Photography
The influential motorsport chief is behind the partnership with GB and high-quality brands Power Maxed and Steel Seal.
Weaver, also Team Principal of British Touring Car team Power Maxed Racing Vauxhall, has hailed the long-term success of speedway's gold-winning Great Britain set-up.
He revealed: "I certainly can't see it going backwards. To defend is an even harder job and to win back-to-back is probably an even slimmer chance.
"Whatever happens with the work that goes into Great Britain, they will fight to the wire.
"But it's also about the youth development academy and the next generation as well. Speedway is definitely better for their involvement.
"It's been a success, 100 per cent. Not just because speedway is a cool thing to be involved with.
"Rob (Painter) and Vicky (Blackwell) at GB are amazing people to work with, they do everything they can to make sure you maximize return on investment.
"They've introduced us to lots of people which has benefitted us as a business.
"Winning that amount of titles and medals with Great Britain has given us plenty of coverage and really cool images to use throughout our websites and media platforms.
"We did a three-year deal and it's been extremely successful. They're very professional and have great attention to detail. The results achievement is testament to their hard work."
Power Maxed delivers a stunning range of car and bike care products and their involvement has been a key element in the structure of building GB's platform on the shale. It's a brand already familiar with motorsport success.
Weaver added: "Power Maxed is predominantly an automotive care brand. We manufacture and distribute a whole range of polishing, cleaning, detailing and lubricating products for cars, vans, bikes and caravans.
"Our two key focuses are performance and value. But we'll never compromise performance to be better value. When we manufacture products it's about being the best and beating our competition.
"That's why the synergy with motorsport aligns because it's about being the best and to win.
"We run the Vauxhall BTCC team and have been very successful with that and over recent years with the most recognised driver on the circuit in Jason Plato."
Great Britain MD Painter was quick to acknowledge the backing of Weaver and Automotive Brands.
He added: "This is a massively valued partnership of know-how and expertise in all motorsport fields.
"Adam understands our structure and targets and that is paramount to a successful outcome for both sides of this relationship.
"All of our brand partnerships are a vital part of all the medal success we've achieved at senior and junior levels over the past few years."