Robert Lambert - European Champion!
Robert Lambert delivered an outstanding performance under high pressure to become 2020 Speedway Euro Champion.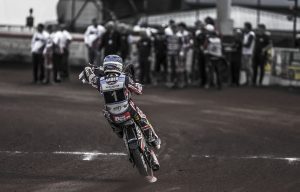 Image courtesy of Taylor Lanning Photography
The Great Britain star won Wednesday's fifth and deciding round in Torun to secure the trophy and also become the first confirmed rider for the 2021 Grand Prix series.
It was his second SEC meeting victory in succession, with the foundations for his overall triumph put in place when he scored 17 points in Gniezno last week to turn a six-point deficit to Leon Madsen into a two-point advantage. But that lead came under threat on several occasions in a dramatic decider, when the progress of both contenders was threatened by several of the series' other competitors, who ensured they didn't have an easy route to the Final.
Lambert gained a massive boost when he defeated Madsen in Heat 1 to immediately extend his lead to three points, and both riders finished third in their second outings. However, Madsen then appeared to be taking control of the meeting with a clear win in Heat 10 whilst Lambert again had to fight to salvage just one point in Heat 11 after a battle with outgoing champion Mikkel Michelsen.
So he was only one point clear at that stage, and also at risk of not making the meeting Final, which would have offered Madsen a 'free' extra ride to score points. Madsen added a further win in Heat 14 but Lambert responded superbly in the next race with a key move to steam inside Michael Jepsen Jensen off the fourth bend and increase his tally by three more points.
Heat 18 was good for the British rider as Madsen dropped a point to Michelsen, but it still put the Dane ahead in the standings – and heading into a Heat 19 featuring four of the night's top scorers, a slip by Lambert would have left him out of the top six in the meeting and made Madsen champion. But Lambert conjured a fine start from the inside and immediately moved out to block the run of Nicki Pedersen – so far from battling to continue in the meeting, he had shot into the Final!
Lambert's 11 points placed him ahead of Madsen on countback, which became important when Kai Huckenbeck won Heat 20 to move on to 12, dropping Madsen into the race-off and also limiting his gate options should he reach the Final. But an indication of just how close it was came from the fact that Lambert made the Final automatically on 11 points, whilst wild card Pawel Przedpelski failed to reach the race-off on 10 – being the one of four riders to miss out on countback, resulting from a third place behind Timo Lahti back in Heat 2.
Madsen made short work of the race-off as he went through alongside Lahti, leaving Nicki Pedersen and Bartosz Smektala to stage their own battle for a top five finish, and gate choices for the Final saw Huckenbeck, Lambert, Madsen and Lahti select red, blue, white and yellow in that order.
Huckenbeck had been a huge surprise package in the meeting, both he and Lathi cast in the role of spoiler, with Lambert needing to finish one place behind Madsen to secure the title. A two-place gap would have resulted in a run-off, whilst a Madsen win with Lambert at the back would have seen the Dane snatch the title. But a complicated night of combinations and permutations had a thankfully straightforward ending, as Lambert bolted from gate two, closed down Huckenbeck on the first bend and made good his escape as Madsen battled to shrug off the other two riders.
It was glory for the British rider, with Madsen second in both Final and overall, and Lahti was third on the night with Grigory Laguta third in the series. Michelsen finished fourth overall, and Smektala defeated Pedersen in the run-off for fifth.
A delighted Lambert said: "It's such an incredible feeling, and I'm so happy about it. It's been tough, it was a hard meeting all the way through and it was close between the both of us, but it was just that last race, once I made the start. It was all I needed to do, to focus on the start and get out there, and I managed to do that and get this beautiful trophy in front of me."
"I'm honoured to be European Champion, and maybe a bit later the feelings will sink in a bit deeper. I'm just so happy about it, I can't believe what's happened. In the situation we've been in with the virus there's not been so much racing, but to be able to come and pull off something like this, I'm very happy. Thanks to everyone who's been helping me and supporting me throughout, and I hope I'm making the British fans very happy because they've got no speedway to go and watch at the moment as the league is cancelled.
"So I hope everyone at home is cheering and very happy, because I am too!"
Lambert has little time to fully reflect on his success, as he is straight back in action on Thursday in a re-arranged Ekstraliga fixture featuring another clash with Madsen! Rybnik race at home to Czestochowa, with the visitors looking to move back into the play-off places having not completed a meeting since their shock home defeat to Lublin on July 12.
There are two league matches in two days for Lambert's side, who also travel to Zielona Gora in Round 8 on Friday. They are being kept off the bottom of the table by the fact that Gorzow have lost every match so far, and it would be a surprise if that record changes when they visit unbeaten leaders Leszno.
Sunday's matches feature Grudziadz against Czestochowa, whilst the match of the round sees Tai Woffinden's Wroclaw side travel to Lublin, with both sides currently in the play-off places. But the league table could look substantially different in the near future as Czestochowa are racing three matches in six days, with their re-arranged home clash with Leszno taking place next Tuesday.