Rowe Machine Ready For Fitness Battle
Anders Rowe is ready for "survival of the fittest" battle to make his name in the Great Britain squad.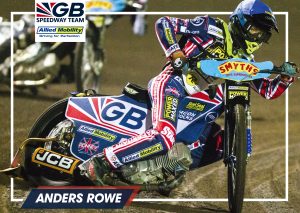 The Royal Wootton Bassett racer will be stepping up into the Premiership with local club Swindon as well as staying with Somerset in the Championship for the 2020 season. Rowe was also a hero for Great Britain by a paid 12 top scoring role in the big win over Denmark in late October. Now the 17-year-old wants to make further progress for club and country.
He said: "I think I surprised a few people with my performance in the Global Challenge Series against Denmark. I wasn't far off the likes of Rasmus Jensen and Dan Bewley in races and that's given me a huge amount of belief.
"I think a few people have said my move to Swindon in the Premiership might be a bit early for me. I definitely feel it is the right time. I have to make that step up at some time. I want to progress and I believe I can compete at the highest level. I proved that against Denmark and now I need to prove it every week for Swindon. It's my local track and it's the right thing to do right now.
"There's no doubt I have a lot to learn. But it's important to raise the standard of my racing. I'll have experienced riders with me and against me. I can learn from the likes of Jason Doyle and Troy Batchelor in every meeting. I feel confident. I'm at reserve with Ellis Perks and I think we can do a good job. He's a team racer I can trust and I can't wait to get started."
Rowe has also admitted he's been hitting the gym for at least three hours a night to make sure he can compete with his Great Britain colleagues. He added: "In the New Year I'll be joining up with the Great Britain training camp and I want to make sure I'm ready for it. There's definitely competition between all the British riders. It's like survival of the fittest and I want to be the fittest!
"I think it's really important what I'm learning on and off the track with the Great Britain set-up. It's now more focused and professional like other motorsports. I've learnt so much about what goes into preparation, fitness and nutrition. That's so important and I've adopted a lot of that into my racing."
Rowe is convinced the new GB set-up will be vital for the next crop of youngsters including himself, Kyle Bickley, Tom Brennan, Leon Flint and Drew Kemp. He added: "There's so many young riders coming out of Poland and Denmark. But I definitely think we can compete. The new GB set-up is so good, it's taking us all to a new level. I believe it will help create a new generation of champions. It's so well organised and thorough. We are taught every aspect of racing, the financial side right through to machinery set-ups and what you eat. It's so professional and it's great to be part of it."
I think it's really important what I'm learning on and off the track with the Great Britain set-up. It's now more focused and professional like other motorsports. I've learnt so much about what goes into preparation, fitness and nutrition. That's so important and I've adopted a lot of that into my racing.

Anders Rowe