Rowe wants to be in next generation of champions
Anders Rowe believes there is a new "generation of champions" emerging from the Great Britain youth set-up.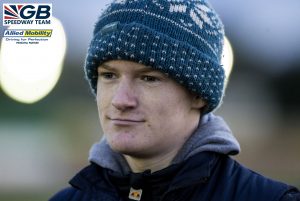 The Royal Wootton Bassett racer has had an excellent first season in the Championship with Somerset with several eye-catching match-winning performances. Now Rowe admits he is delighted to get his chance in the senior squad to take on the formidable Danish side. Rowe is convinced the new GB set-up will be vital for the next crop of youngsters including himself, Kyle Bickley, Tom Brennan, Leon Flint and Drew Kemp. He added: "There's so many young riders coming out of Poland and Denmark. But I definitely think we can compete. The new GB set-up is so good, it's taking us all to a new level. I believe it will help create a new generation of champions.
"It's so well organised and thorough. We are taught every aspect of racing, the financial side right through to machinery set-ups and what you eat. It's so professional and it's great to be part of it. I'm really happy to be part of the team. It was hard not to get picked for the World Under-21 Team final at Belle Vue earlier in the season. But it's good now I've finally got my chance. It's a great opportunity to win some races for Great Britain but I know it will be tough.
"I believe that Drew Kemp and I can do a good job and get some results. We are both very happy to be in the team." Rowe has attended several ATPI No Limits training days at Belle Vue and Leicester under the watchful eye of top Australian rider Rory Schlein. He believes he is learning a wealth of knowledge that is helping him up his game on the shale. He added: "I just think it gives me a lot of belief and confidence. I've been in the same team with Rory at Somerset as well, so it's been a great help. I've learnt so much about what goes into preparation, fitness and nutrition. That's so important and I've adopted a lot of that into my racing."
There's so many young riders coming out of Poland and Denmark. But I definitely think we can compete. The new GB set-up is so good, it's taking us all to a new level. I believe it will help create a new generation of champions.

Anders Rowe