SGP REVIEW
Dan Bewley's sensational victory at Cardiff has put him in with a genuine medal chance in his first season of Grand Prix racing.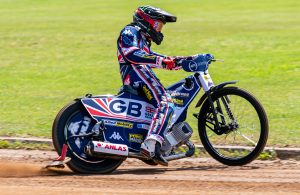 Image courtesy of Steve Hone Photography
Bewley bagged the full 20 points at the Principality Stadium to the delight of the home crowd, and it continued a dramatic upward trajectory as he adapts to racing at this level.
The GB star has reached the semi-finals in the last four GPs, and after dipping out at that stage in the last three rounds with 11 points in Prague and 12 in Teterow and Gorzow, this time he not only reached the Final but went on to win it!
It means Bewley is now fourth overall, just one point behind Patryk Dudek who himself is in good form having made each of the last three Finals.
At the top of the order, the position of Bartosz Zmarzlik looks ever more secure, with his second place behind Bewley leaving him a massive 22 points clear of Leon Madsen, who finished fourth in the Final.
It means Zmarzlik could even afford to miss a Grand Prix and still lead the series, so it would take a major transformation in form and fortunes over the last four rounds to stop him becoming a three-time World Champion.
In the race for the top six, Tai Woffinden has now dropped outside following his withdrawal from Cardiff after three rides due to illness.
Woffinden is six points behind his Wroclaw colleague Maciej Janowski, at the head of a tightly packed group with six riders covered by just three points, including Robert Lambert who is two behind Woffinden and eight off the top six.
The SGP2 title also looks destined to head to Poland after Mateusz Cierniak's win in Cardiff, awarded after 20 heats with the semi-finals and Final not taking place due to track conditions.
Cierniak has a maximum 40 points from two rounds, with one to go in Torun, and that leaves him 12 ahead of Jan Kvech, who lost ground with a Heat 20 exclusion when he was deemed to have caused Benjamin Basso to crash.
Realistically Kvech heads the race for second place with 28 points ahead of Basso on 25, Kevin Juhl Pedersen on 22 and Petr Chlupac on 20.
Meanwhile British duo Tom Brennan and Leon Flint showed how they very much belong at this level with nine points apiece, and both could consider themselves unfortunate with the meeting being abandoned, as they were attacking the track well and would have had an opportunity in the decisive races.
Meanwhile Drew Kemp saw him semi-final hopes ended in a disastrous start to the meeting, but recovered to post five points from his last three rides.
A limited weekend programme in Poland saw Bydgoszcz confirm qualification for the play-off semi-finals by beating Gdansk 56-34 for a 19-point aggregate victory.
Teenage hotshot Wiktor Przyjemski scored a paid maximum but was then taken to hospital with the recurrence of a hand injury, forcing him out of the SGP2 event the following day.
Meanwhile in Division Two, Opole took advantage of Adam Ellis's injury from the British GP to win 49-41 at Daugavpils and put themselves in the driving seat for a place in the Final.