SILVER SUCCESS FOR GB
GREAT BRITAIN star Dan Bewley believes the future is bright after yet another medal win in the Speedway of Nations.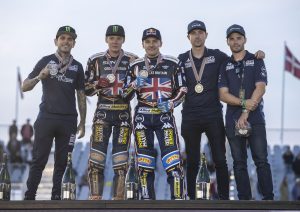 Images courtesy of Taylor Lanning Photography
In a fiercely competitive final in Vojens, Denmark on Saturday night, GB picked up silver in a grand final defeat to Australia.
Despite being unable to defend the win of 2021, it was a third team medal in five years at senior level.
GB were without Tai Woffinden, who had to withdraw after sustaining a training injury prior to the event. But Robert Lambert and Bewley were outstanding, taking GB to their second successive final.
Bewley said: "There's a bit of disappointment but I felt like I rode well most of the night and it came down to that last race.
"The Aussie boys Jack (Holder) and Max (Fricke), they were going good. They got a great start, I tried my best but I couldn't make much of an impact. Fair play to them, they earned it.
"We all want to win, but it comes down to that last race. They were just that little bit better tonight.
"I was back off the subs bench again, just the same as in 2020 and last year. We are a three man team, it was unfortunate for Tai what happened. He was doing the right thing by training but picked up a knock.
"I always try my best to be ready. We obviously want to win and I had some good races, it's something to build on.
"We go onto Wroclaw next year and hopefully I won't be on the subs bench, I don't need to be the super sub again.
"Robert and I are becoming a good double act. We're the Blacksmiths at Eskilstuna and ride together every week, we get on pretty good. It just wasn't to be this time."
________________
FIM SPEEDWAY OF NATIONS FINAL SCORES:
1 AUSTRALIA 30: Jack Holder 19, Max Fricke 11.
2 GREAT BRITAIN 32: Robert Lambert 18, Dan Bewley 14.
3 SWEDEN 30: Oliver Berntzon 20, Fredrik Lindgren 10.
4 DENMARK 28: Leon Madsen 15, Mikkel Michelsen 13.
5 CZECH REPUBLIC 27: Vaclav Milik 18, Jan Kvech 9.
6 POLAND 26: Bartosz Zmarzlik 20, Maciej Janowski 4, Patryk Dudek 2.
7 FINLAND 16: 1 Timo Lahti 14, Jesse Mustonen, Timi Salonen 0.