SON2 PREVIEW - Riga
DAN GILKES says Great Britain must "stick together" to pick up another Speedway of Nations medal. The Under-21 team of Gilkes, Anders Rowe and Drew Kemp will bid for success at the SON2 in Riga, Latvia this evening.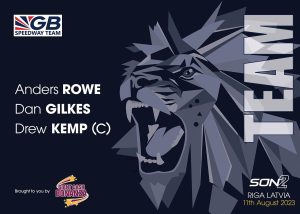 A year ago GB picked up a Bronze medal in Denmark and naturally the national side want to build on that.
Gilkes said: "I'm really looking forward to it. This is the first Great Britain event where I'm actually named in the side and not at reserve.
"I'm happy to be given a chance. I feel I've been riding well this year and I want to make the most of my opportunity.
"Obviously last season I had a hard time with such a bad injury so it's been good to have a good run of scoring in both the Premiership and Championship.
"It's our last year at the World Under-21 level so we naturally want to go out and do the best we can.
"It's the same team we had in the Under-19 Pairs in 2021. The only difference was that Drew was in the main body and I was at reserve.
"We all understand that we will all be given rides as the management try to mix it up during the event.
"We get on well as a team, we can all help each other out. The main thing is to work together because we will need that in such a tough meeting.
"The way the points system works it is massive that we look out for each other. It's very important we stick together."
Gilkes admits that the side has little knowledge of the Latvian circuit but is confident they can adapt quickly.
He added: "We have little experience of Riga but we understand how the track rides. I feel confident going into the meeting. All we can do is try our best and try and get a medal."