Speedway of Nations moved to Europe
Great Britain Managing Director Rob Painter believes GB are still going for gold despite the FIM Speedway of Nations switching from Manchester to Europe.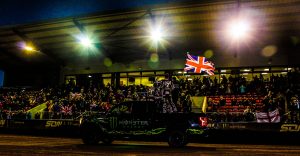 Images courtesy of Taylor Lanning Photography
With the coronavirus pandemic still such a huge threat, it was almost inevitable that the event in late October would be forced away from the UK.
Painter has commended the FIM for their efforts to keep the status quo but is adamant it changes nothing in GB's bid for gold now that it takes place at a venue to be confirmed in Europe next month.
He said: "I have been in regular discussions with Armando Castagna at the FIM all year and I've been thoroughly impressed at the way they have delivered such an exciting Grand Prix season in such difficult circumstances. It has been quite clear for some time that hosting anything in the UK would be a very difficult challenge given the fluctuating nature of the pandemic situation.
"Armando and the FIM have pulled out all the stops with great patience to try and keep the Speedway of Nations in Manchester but ultimately it just wasn't possible, especially when you consider some areas near the circuit are still under lockdown just a month away from the meeting. I'm dreadfully disappointed for the British fans who were looking forward to the event. It's been such a tough year for the sport in the UK and the wonderful, loyal supporters."
Great Britain came so close to grabbing Gold in the SoN just two years ago in Wroclaw, Poland, Tai Woffinden and Robert Lambert losing out to Russia in the final. Injuries and bad luck wrecked their hopes 12 months ago, but Painter believes a change of venue doesn't affect GB's chances.
He added: "I believe we have as good a team as anyone else in the world. Tai and Robert have proved that in the past. You could argue now that Robert is a far more accomplished rider with age, and he's still very young. He won the European Championship this year to underline that point.
"It doesn't alter our chances of medals in any way or form. At this level, any world class rider can perform to their best ability on any circuit. We will approach this event with exactly the same mindset as we would have in Manchester."
Painter is delighted that the FIM have confirmed that the 2021 SoN final will be staged in Manchester.
He added: "I know that Armando and the FIM rate the Manchester track and facilities as one of the best in the World and we are absolutely delighted to be going back to Manchester again next year, I'm sure that will be a fantastic occasion for everyone to look forward to."