Speedway Queen Natalie backs screen tests
TV QUEEN of speedway Natalie Quirk welcomes the return of big time test matches to the calendar.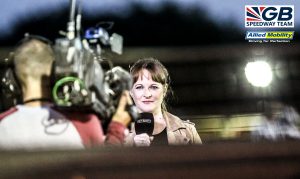 The BT Sport presenter has just completed another excellent season of action with the Grand Prix series and Premiership campaigns. But Quirk believes that the increased excitement around the Great Britain team set-up and more international clashes would be a great addition to the TV schedules.
She said: "Over the past few years of BT Sport coverage, it's been a privilege to present Great Britain in their pomp with epic performances in Manchester and Wroclaw. Who could ever forget the sea of red, white and blue of Belle Vue during the World Cup a couple of years ago. The roar of the crowd when Tai Woffinden and co grabbed silver.
"Likewise the last two years of Speedway of Nations has been equally thrilling with a second place and then win just a few months ago. Then came the nerve-shredding final in Wroclaw against Russia 18 months ago when Tai and Robert Lambert came within a whisker of landing gold. It must never been underestimated just the sweeping effect patriotism can have on British speedway."
Quirk admits that the influx of Polish stars looks daunting along with Denmark, but GB have a bright future with youngsters coming through. She added: "Now it's very exciting to see the job that is going on with Great Britain. A huge wave of enthusiasm is around the national camp.
"All the riders are so keen to be part of the new set-up, it's great to see the next bunch of talented guys come through like Robert, Dan Bewley and Charles Wright. It's going to take a mammoth effort to topple Poland from their place on top of the world, certainly as a seven-man team anyway. Just to make GB's task even more difficult will be the future Danes who also look more than a bit impressive. But let's not underestimate in any way the talent GB has waiting in the wings. The return of test matches to the speedway calendar is much-needed. If we can get them televised that would be even better."
It must never been underestimated just the sweeping effect patriotism can have on British speedway. The return of test matches to the speedway calendar is much-needed. If we can get them televised that would be even better.

Natalie Quirk