The Bronze Brits: Drew Kemp
Just eighteen years old but already experienced racing on the continent, Drew Kemp has been carrying the Union Jack on his back for a couple of years now.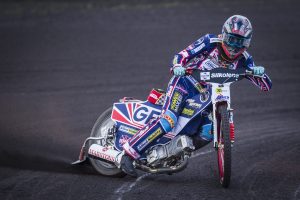 Images courtesy of Taylor Lanning Photography
And before he did so again at the Speedway of Nations at the weekend, he was part of the Under 21 team that won Bronze in Denmark.
The Ipswich Witches rider was selected for a second year running for the Team's Under 21 Team World Final and rode to five points in tricky conditions in Outrup.
Kemp said: "I didn't get much practice beforehand and the track wasn't too fun to begin with, but we just had to get on with it and make the best of it.
"To begin with it was more survival than anything but I didn't ride much better when the track improved either.
"I know I didn't ride well at all that day so there was definitely more than five points on the table."
Not the meeting he was hoping for despite riding more than most ahead of race night.
He said: "I'd been riding more than most people so it wasn't a problem of not being ready. It was great to race with Great Britain again.
"It wasn't the meeting I was hoping for or the team was but a Bronze medal was still alright I guess."
Bronze was one place down on the Silver Kemp won in 2019 in Manchester but the team were without Robert Lambert for the first time this year and it left an obvious hole in the team.
"He was a big part of the under 21s," said Kemp, "But there was always going to be a time when he wasn't an under 21 anymore.
"Hopefully the squad we took out there will be as good as Rob one day and we won't have to rely on Rob like we did in the past moving forward."
Taking the role as team leader this year was Dan Bewley who led by example scoring 17 points on his own, more than any other rider on the night.
On his GB teammate, Kemp said: "Someone like Dan who's in the top league in Poland now was really helpful. We really need someone like him to help us and pull us along which is exactly what he did, scoring 17 points."