The Bronze Brits: Jordan Palin
The FIM U21 Team Speedway World Championship Final in Outrup, Denmark saw a first GB call up for 16-year-old sensation Jordan Palin after bursting onto the scene for the Belle Vue Colts in 2019.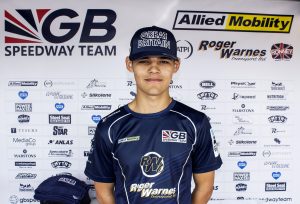 Images courtesy of Taylor Lanning Photography
He began 2019, his first in professional Speedway, at reserve for the Colts but he quickly rose to be one of the very best in the division and ended the season at number one.
The call to head to Denmark came as a surprise to Palin who had anticipated another year of progress before being selected for the Under 21 team.
"I got the call a week, maybe two weeks, before the meeting," said Palin, "It was unreal, I didn't really expect to be picked for it this year.
"I was looking more towards next year or the year after because there's a lot of good riders."
Palin worked closely with GB Under 21 Captain Dan Bewley throughout their time in Denmark and relishes every chance he gets to spend time with some of the world's best.
He said: "It's just good to hang around people like that because you can learn so much by just speaking to them, even at dinner, the way they speak about things is a great experience."
He admitted that he didn't do as well as he hoped he would during the meeting, scoring 2 from his two rides. The conditions on the day had everyone struggling but he is aware that not every meeting will be as difficult.
Palin said: "To be honest I don't think I had a very good meeting, I struggled because it had rained all day before the meeting, a solid five hours before which made the track really difficult.
"When people like Dan and Dominik Kubera are struggling you know it's a tough track."
Palin has raced a lot in Europe but there is still a language barrier to overcome wherever you race outside the UK. He is keen to start learning a new language to help his future Speedway career.
He said: "It's quite difficult not speaking the language even when you're just going for tea it's a lot harder. But we had a guy from KLS with us who spoke Danish and that made everything easier for us.
"I want to learn Polish sooner rather than later because my aim is to ride in Poland one day."
He was due to make the step up to the Championship in 2020 with Scunthorpe but now he is about to head to Lublin, Poland for the Speedway of Nations to represent GB on the biggest stage of all.
Palin said: "I was even more gobsmacked when I got the call for the Speedway of Nations. I've got to go there and do the same in trying to learn whatever I can.
"It's not the Kubera's but the Zmarzlik's and Sayfutdinov's I've got to learn off and try to take positives wherever I can."