The Bronze Brits: Leon Flint
Berwick Bandits rider Leon Flint has been a busy boy in recent months, riding across Europe for himself and for Great Britain.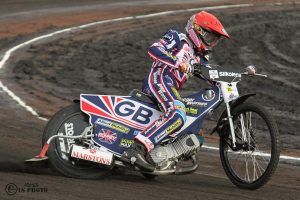 It all started in Denmark when Flint helped Great Britain to a Bronze medal at the Under 21 Team World Championship where he scored one point from two rides.

It wasn't the meeting he was hoping for personally but he was glad to still come away with a medal round his neck.
Flint said: "Personally, I don't think I rode bad; I rode really hard and I tried my best but it was just silly racing incidents that weren't my fault and my result didn't show how well I rode."
"I'm happy for the team because we did well but my personal performance didn't please me really.
"I don't like to make excuses or anything but it is hard only getting one ride and not being able to tweak setups. The track was hard but the boys rode well."
Riding for Great Britain has always been an honour for the 17-year-old and he was relieved to get the call from the boss.
"It was really special to me to get the call and get in the team," said Flint, "I knew my performances before needed to be good so I had to pull my finger out at Pardubice if I wanted to be in the team.
"For me, I find it really important. I think it means more to me than most other people, I've got a lot of pride for my country and I just feel very proud when I'm wearing a GB race suit."
The under 21 team lost Robert Lambert after 2019 and Dan Bewley, who captained the side in 2020, will also be moving on to senior Speedway from next year leaving big shoes to fill.
But Flint insists that there are more than enough capable riders able to step up to the challenge and lead the team's charge.
He said: "We had Dan who is 20 but after that it was something like 18, 18, 17, 16. The ages of our squad was really young and you look at the rest of the teams and they're all 19 bordering 20. We're not that far off a Gold or Silver"
"Everyone was saying last year when we came second 'they won't do much now they've not got Robert' but look at what we did this year.
"Dan is a top quality rider but there's no reason why me, Jordan, Drew, Tom, Anders can't fill that top spot.
"Other countries are losing top riders as well; it just means we've got to step up to the plate when the time comes."