Great Britain Speedway Team announce continued partnership with Allied Mobility
Glasgow Tigers owners, Allied Vehicles, are set to renew their sponsorship of the Great Britain Speedway Team as Principal Partners for the 2019 campaign.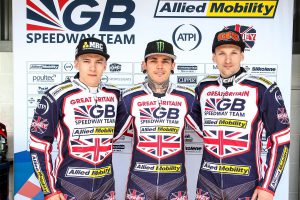 Last year Allied Mobility, part of the Allied Vehicles Group, featured on the GB Team's kevlars and bike covers in both the Speedway of Nations and the Test Match against Australia in Glasgow last July. A bumper crowd of over 2,000 spectators travelled far and wide to see some of the biggest names in speedway, including World Champion Tai Woffinden, race off on the Ashfield track.
Allied Vehicles Managing Director, Peter Facenna was delighted to renew the agreement, he said: "We're very excited to again be partnering with the Great Britain Speedway Team in 2019. It was fantastic to see the progress made last year under Rob Painter, Vicky Blackwell and the team of people they've brought in to the set up. The fact that we came within one race of winning the Speedway of Nations in their first year of stewardship, says it all."
"We also hosted the first official Test Match in the UK for a number or years, which was a resounding success. We very much look forward to working with Rob and the team to bring other huge events to the Peugeot Ashfield Stadium." "It's great that our Allied Mobility brand is going to be seen on a global scale, and we look forward to working with Rob and the team throughout the season."
Rob Painter, GB Speedway Team's Managing Director said on the partnership: "We are delighted be continuing our Partnership with Allied Mobility in 2019. The passion and commitment shown by Allied Vehicles Group and their team behind the scenes, not only to the Great Britain Speedway Team but to Speedway as a whole is fantastic and something that we absolutely identify with, we are hugely proud to continue our Partnership with them once again."
"A Partnership with Great Britain offers a Global reach for the Allied Mobility brand and we look forward to an exciting year ahead with them alongside us."
We're very excited to again be partnering with the Great Britain Speedway Team in 2019. It was fantastic to see the progress made last year under Rob Painter, Vicky Blackwell and the team of people they've brought in to the set up. The fact that we came within one race of winning the Speedway of Nations in their first year of stewardship, says it all

Peter Facenna, Allied Vehicles Managing Director