TRIGGER FIRED-UP FOR GB FUTURE
Young Ben Trigger admits he is in "dreamland" to be called up for the Great Britain Academy.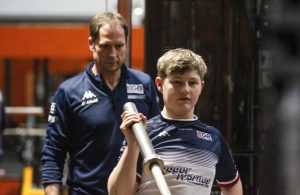 Image courtesy of Taylor Lanning Photography
The highly-talented 15-year-old made his debut appearance at the Performance Camp in Bicester last weekend.
Trigger, who will race for Plymouth this season, revealed it was a huge privilege to brush shoulders with the next generation of GB superstars.
He said: "It's mind-blowing to be coached by Chris Neville who has worked with David Beckham and England football.
"Chris is a sound guy and so level-headed. For me at my age to have his experience and knowledge considering who has helped in the past, is just unbelievable.
"You could say I'm in dreamland. It was amazing to get a message to say I was invited. I didn't think I'd ever get this sort of opportunity.
"Then to be around the quality of riders within the Great Britain set-up is so important. They are racing in the Premiership, Championship and won the Speedway of Nations.
"The support I got all weekend from the backroom team like Chris and Jeremy was incredible along with Rebecca Blake doing scientific analysis.
"I can see that Tom Brennan has come through the GB Academy and I'm where he was five years ago and now he's a World Champion. I've got a long way to go but it does give you inspiration.
"It was very high performance training in the gym and on the assault course. It was also about team building and bonding. Plus there was a bit of a competitive edge to complete the course in a quick time for your own team. To have that professional help is massive for me."
Trigger has already stood on the top of a podium in the British Youth Championship, a title he aims to defend in 2022 for the last time.
He added: "This year I'll be doing the British Youth Championship, defending my title. That's my last season before I turn 16 in May. The other big targets are the Under-19s and Under-21s.
"I'll be riding for Plymouth in the National League and hopefully aim for a Championship spot. My time with GB will definitely make me push on."