TURKISH DELIGHT
ANLAS Tyres Chairman Eray Savci admits the company were honoured to have helped Great Britain finally get a grip on gold.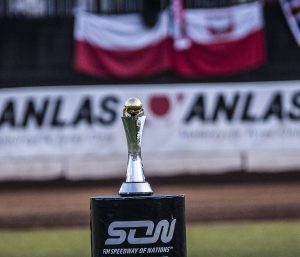 Images courtesy of Taylor Lanning Photography
The Turkish firm have been a valued partner of GB for two years, supplying world class tyres as the red, white and blue won the FIM Speedway of Nations last October.
Now Anlas are determined to use this platform to further develop tyre technology in a very difficult market of speedway with varying track surfaces, sizes and weather conditions across Europe.
Eray Savci said: "We are tremendously happy to be part of the great success of the Great Britain Speedway Team which surely won't be the last.
"It has been an honour and joy to witness the gold medal that came after 32 years.
"At Anlas we believe that success comes only with technology and innovative approaches as well as the close cooperation.
"We have created a very good collaboration with the Great Britain Speedway Team which we hope to continue in the future.
"I believe our close relationship with the GB Team will provide continuous development opportunities for the speedway tyre programme, as well as providing new winning opportunities for the GB team."
Marketing and Export Manager Fatih Ergun added: "We are proud to share the celebration of the gold medals for the GB Team after a very challenging year.
"From the very first day, we have been in a very open and positive relationship with Rob Painter and Vicky Blackwell at the GB team.
"We believe this strong relationship will bring many more trophies to us together.
"As we had mentioned from the beginning of this journey, we are here to improve speedway tyres with our partners.
"Thanks to our strong collaboration with the GB team, we will continue to develop better and safer tyres for the future."
Great Britain Managing Director Painter was quick to acknowledge the backing of Anlas. He added: "This is such a strong partnership with Anlas. It's a fundamental part of how Great Britain operates to have the right equipment for testing and practice.
"But Anlas brings so much more know-how and passionate support. We are very grateful and excited for what the future will bring."