WEEKEND REPORT - SGP Cardiff
Saturday's FIM British Grand Prix at Cardiff produced thrills and spills galore, but ultimately it was pain and frustration for the Great Britain contingent.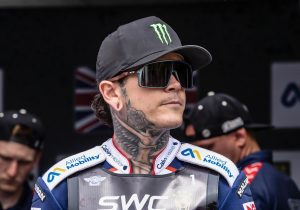 Image courtesy of Taylor Lanning Photography
All of GB's three regular GP riders had a 'what if' story to tell and it was remarkable that none were able to make it into the Final given the display they put on.
The most painful night was suffered by Tai Woffinden, who looked to be in top form with a brilliant last-to-first win in Heat 3, and he was all set to go on to nine points as he led Bartosz Zmarzlik in his fourth ride.
But disaster struck on the apex of turns one and two as Woffinden lifted violently and came crashing down, as for the third time in his career a GP at Cardiff ended early for him, with surgery required on a broken hand.
The injury is likely to rule him out of at least the Danish Grand Prix, and possibly the finale in Torun, and is also a major concern to Wroclaw and Sheffield ahead of their play-off campaigns.
Last year's Cardiff winner Dan Bewley was on seven points from four rides, with his prospects looking good ahead of Heat 18 especially with two race wins on the board.
But in a race featuring three direct rivals for a semi-final place, Bewley touched the tapes and was excluded, and that seven-point total ended up being one short of qualification.
And there was also frustration for Robert Lambert, who started quietly with two second places but then stormed into the semi-finals with three straight wins to place him second on the scoreboard, one point behind Jack Holder who bravely went through the pain barrier on his comeback from injury.
Fredrik Lindgren and Holder made it from the first semi, putting out Kim Nilsson and Max Fricke, and the start of the second semi saw Martin Vaculik take the advantage ahead of Lambert – only for Zmarzlik, who had endured a quiet night with no race wins, to suddenly fly around the field to make another Final and put Lambert out.
The misfortune even extended to one of the GB reserves as Anders Rowe was set for a superb second palace as he took Woffinden's place in Heat 18 and was ahead of Steve Worrall and Maciej Janowski before suffering engine failure midway through the race.
Worrall, as Wild Card, picked up three points, whilst Jason Edwards also took a ride in Heat 19 after Bewley's exclusion but he failed to score.
And it was Vaculik who dominated the Final for his first Cardiff victory ahead of a close scrap for second place between the remaining three riders, with Holder a brave runner-up and Zmarzlik vitally overtaking Lindgren on the last bend for third place.
With two rounds remaining, Zmarzlik now leads the series by 24 points from Lindgren, with the Pole on 138. Third placed Vaculik has 105 with Holder on 97, before a ten-point gap to Jason Doyle on 87 and then Bewley on 86.
Lambert's strong Cardiff display leaves him just outside the top six on 83, whilst Woffinden is tenth on 64 but is likely to drop behind Patryk Dudek during his time out of action.
There is still, however, the possibility of a British World Champion being crowned in the FIM Long Track World Championship as Chris Harris leads the series by one point heading into the final round.
Harris finished third in a rain-affected event in Morizes on Saturday, with Dutchman Romano Hummel dominating the event whilst title rival Martin Smolinski finish second.
Harris had to fight through the Last Chance race and then did well to pick up bronze from an unfavourable gate, passing Dave Meijerink as they headed into the last lap.
That leaves Harris one point ahead of Smolinski heading to Muhldorf on September 17 in a true winner-takes-all decider, whilst Zach Wajtknecht is still well placed to finish third overall.