WEEKEND REVIEW - Lambert, Bewley, Ellis
Three Great Britain riders have made it through to the Grand Prix Challenge after battling their way through qualifiers at the weekend.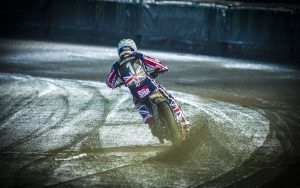 Image courtesy of Taylor Lanning Photography
Robert Lambert, Adam Ellis and Dan Bewley all found themselves in run-offs at the end of their meetings and all were successful in those races.
They are now just five rides away from the 2022 Grand Prix series, with the Challenge meeting taking place in Slovakia on August 21.
Lambert found himself under pressure in Croatia when he failed to finish his second ride – but he scored 11 points from his other four, to end up tied with Jan Kvech and Oliver Berntzon as Janusz Kolodziej and Andzejs Lebedevs made it through as the top two.
Lambert won the run-off to become the third qualifier with only three riders progressing as of right from Gorican.
Ellis was in a tough qualifier in Italy, with the meeting only taking place after extensive discussions over track conditions.
The Great Britain man rode superbly to score 11 points, behind Patryk Dudek and Mikkel Michelsen, and secured third place on the night by defeating Max Fricke in a run-off. Fricke also progresses to Zarnovica.
Bewley was involved in a thrilling meeting at Glasgow, in which Tobiasz Musielak, Chris Holder and Nicolai Klindt took the first three places.
Bewley tied with Rasmus Jensen on 11 points and had to race off for the final qualifying place, with Bewley defying Jensen's every move around the Dane's home circuit of 2019 to take the spot.
Charles Wright scored seven points in that meeting and Lewis Kerr – returning from injury – picked up six, whilst there was a brilliant performance from youngster Tom Brennan who scored nine points from four rides, coming in after Bradley Wilson-Dean and Tero Aarnio were withdrawn due to a crash.
Brennan beat Holder in a remarkable display, whilst Drew Kemp also rode as reserve and collected a point.
The qualifiers from the Hungarian round were Rohan Tungate, Martin Smolinksi, Jevgenijs Kostigovs and Pawel Przedpelski.
Lublin moved to within a point of Gorzow in the Ekstraliga's top four with a 46-43 win in the re-arranged fixture on Sunday.
Grigory Laguta sealed the home side's victory as he defeated Bartosz Zmarzlik and Martin Vaculik in Heat 15 after the visitors had threated to strike back from eight points down.
Gorzow still took the bonus point and it means with five rounds to go Leszno and Czestochowa are level on 11 points either side of the cut-off line.
There has been a change at the top of Division One with Rybnik winning 52-38 in Tarnow to move ahead of Krosno, who lost 50-40 at Gdansk.
But only two points covers the top four clubs, with Ostrow just one point off the summit even though they were held to a 45-45 draw at home to Lodz after throwing away a six-point lead in the closing stages.
Elsewhere Bydgoszcz were 46-44 winners at Gniezno with Vadim Tarasenko crucially splitting Oskar Fajfer and Timo Lahti in Heat 15.
In Division Two, Opole are five points clear after winning 54-36 at Poznan. Second-placed Rawicz have two matches in hand and won 53-36 at Wittstock, whilst Rzeszow got off the mark with a 48-42 win over Landshut.