WEEKEND REVIEW - SGP Prague
Martin Vaculik won the Czech Republic Grand Prix for the second successive season as Great Britain's Dan Bewley suffered more frustration in the Semi-Finals.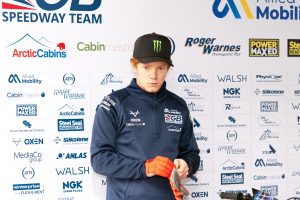 Image Courtesy of Steve Hone Photography
Bewley put on a brilliant performance at the Marketa Stadium in Round 3 of the series, and topped the standings after the 20 qualifying races with 13 points.
He made some sensational moves to do so, including a second place in Heat 3 when he kept Bartosz Zmarzlik at bay after re-passing the World Champion on lap two, and he then got the better of Patryk Dudek and Leon Madsen from the back to win Heat 8.
Bewley went from third to first in Heat 10, passing Jason Doyle and then Vaculik, before adding a third win of the night in Heat 13 and finishing second to Jack Holder in Heat 19.
But in the first semi-final, Dudek took the early advantage and Vaculik made it around the outside to take the lead, with Bewley finding himself in third place after Holder came through to steal second in a three-way battle.
There was a first Prague semi-final appearance for Robert Lambert, who suffered two last places in the qualifiers but crucially had two race wins in his eight-point total, placing him ahead of Doyle and Maciej Janowski on count back.
Lambert contested the second semi-final but missed out to Madsen and Zmarzlik who went through, whilst Fredrik Lindgren snatched third place from Lambert on the run to the line.
Despite a clear win in Heat 1, Tai Woffinden was unable to recapture his previous Prague form and added only one point in the remainder of the meeting – and was fortunate to escape injury when he suffered a heavy crash in Heat 17 as he tried to wind up the outside line in a bid to gain places.
Vaculik made a super start to win the Final with a back-to-form Leon Madsen in second place, whilst Holder kept Zmarzlik off the rostrum in third.
It means Zmarzlik has 50 points and leads Lindgren by three in the title race as the series heads to Teterow this weekend.
Holder has advanced to third place on 42 whilst Lambert and Bewley are now equal-sixth in the standings on 32 points apiece. Woffinden is ninth on 24.
In the SGP2 series, Mateuz Cierniak launched his title defence with a win in the first of three rounds, heading up a Polish one-two-three ahead of Bartlomiej Kowalski and Damian Ratajczak in the Final.
There was a very encouraging SGP2 debut display from Anders Rowe, who reached the Semi-Finals after scoring nine points in the qualifiers, before he went out at the expense of Kowalski and impressive Norwegian newcomer Mathias Pollestad in the first Semi.
In the PGE Ekstraliga there was a sensational result at Grudziadz where the bottom club defeated champions Lublin 56-34 to secure their first win of the season – and they also took the bonus point in the last race.
Max Fricke overtook Holder at the start of lap two for a 3-3 in Heat 15 behind Bartosz Zmarzlik, and that was enough for all three points for GKM to move them level on points with Krosno.
Fricke scored 12+2 from five rides with Nicki Pedersen adding 13 and Gleb Chugunov found his form with 10+1, whilst for Lublin their GP riders Holder and Lindgren tallied just 4 and 3+1 respectively, with Zmarzlik carrying the fight on 14.
The other meeting saw Gorzow draw level with Lublin on 10 points by winning 49-41 at an unfortunate Leszno side, who continue to suffer with injuries.
On this occasion it was Janusz Kolodziej who crashed out, as he was brought down by a major misjudgement by visiting reserve Oskar Paluch in his first ride and was only able to appear once more before withdrawing – although reports indicate he has no broken bones, and should hopefully be fit for the SEC opener next weekend.
Without Kolodziej, Leszno battled on with Bartosz Smektala racking up 15 points from six rides, but Gorzow clinched victory with a 5-1 in Heat 14 and Vaculik top-scored with 14 from five, backed up by Anders Thomsen (11), Szymon Wozniak (10+3) and Oskar Fajfer (10+2).
In Division One, leaders Zielona Gora were comfortable 57-33 winners over Lodz, with Przemyslaw Pawlicki scoring a 12-point maximum.
The Mickey Mouse side are five points clear of Bydgoszcz, who beat Ostrow 56-34 with youngster Wiktor Przyjemski going through the card with 15 whilst David Bellego added 12 after a first ride last place.
Improving Rybnik now hold third place after a 51-39 win over Landshut, inspired by a 13+2 paid maximum from Jan Kvech as they took all three points, but incredibly the bottom six clubs in the table are separated by just one point!
Amongst that group are both Gdansk and Poznan, with the coastal club winning 49-40 on Saturday to move into fourth place overall.
The top of the table Division Two clash between Rzeszow and Opole ended in a 45-45 draw, with the league leaders fighting back from six points down to force a share of the spoils on the road.
Adam Ellis enjoyed an excellent meeting for Opole, scoring 10+2 from five rides and he was involved in a vital Heat 13 5-1 with Oscar Polis over Jacob Thorssell to level the scores.
There was another 45-45 draw on Sunday with third placed Daugavpils sharing the spoils with Pila, for whom Dan Gilkes contributed an important six points including a win in Heat 12 in a 5-1 with Daniel Henderson as they made a dramatic comeback from ten points down.
Elsewhere there was a comfortable 53-37 win for Gniezno against Tarnow, leaving the visitors at the bottom of the table.