EUROPEAN REVIEW - SGP Warsaw / FIME U23 Team Semi-Final Preview
Robert Lambert remains the highest placed Great Britain rider in the World Championship standings after the second round of the Grand Prix series at Warsaw.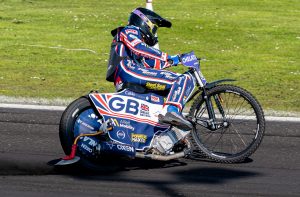 But it was a frustrating night for the Torun rider who was unable to build on his runners-up position from the opener in Croatia, and lost ground to Bartosz Zmarzlik and Fredrik Lindgren who are now tied at the top.
Lambert endured a disappointing start to the meeting, scoring just one point from his first three rides, and although he finished strongly with five from his last two – including a win over Jason Doyle, Leon Madsen and Tai Woffinden in Heat 18 – it was only enough to be placed 12th on the night.
Dan Bewley was the highest scoring GB rider, comfortably making it through the qualifiers with nine points from five rides, including two race wins.
But he was hugely unfortunate in his semi-final when Lindgren picked up drive on his inside, and Bewley shut off in order to avoid a potential collision as the Swede shot across the track.
That destroyed his momentum and he finished last in the race to once again collect 10 GP points, giving him 20 from the first two rounds.
Woffinden also made the semi-finals after scoring seven points, with two race wins proving all-important in the countback over Madsen and Maciej Janowski.
But he missed out in the second semi as Zmarzlik and Jack Holder went through, leaving Woffinden with nine GP points for the evening.
The meeting reached a controversial conclusion with Holder well ahead of Lindgren on lap three of the Final and seemingly destined for his first GP win, only for Zmarzlik to clash with Doyle heading into the third bend.
There was an extended delay before a decision was made, which was not only the exclusion of Doyle but also the requirement for a re-run – and on this occasion it was Lindgren who got the jump, just holding on for victory ahead of Holder and Zmarzlik in a tight three-way finish.
Zmarzlik and Lindgren both have 36 points from two rounds, eight points ahead of Doyle, whilst Lambert is currently placed fifth on 23, Woffinden is sixth on 21, and Bewley is eighth on 20 with the next round taking place at Prague on June 3.
The one Ekstraliga fixture of the weekend was a catch-up meeting from Round 3 on Monday, where Lublin moved up to second place in the table with a 56-34 win over Krosno.
The defending champions overcame Dominik Kubera's injury absence after a crash in GP qualifying to take a comfortable victory, with Zmarzlik scoring a 12-point maximum whilst Jarek Hampel rolled back the years with 14 points from five rides and Lindgren added 10+4.
Doyle top-scored for the visitors with 8+1, and their only two race wins came from Krzysztof Kasprzak and Andzejs Lebedevs.
In Division One, Zielona Gora made it five wins out of five as they defeated Poznan 53-37 with Krzysztof Buczkowski scoring a 15-point maximum, whilst Alexandr Loktaev and Jonas Seifert-Salk scored all but 12 of the visitors' points between them.
Zielona Gora are four points clear at the top of the table whilst Poznan remain in the top six, with Landshut and Rybnik the current bottom two.
In Division Two, Gniezno collected their first of the season as they defeated Rawicz 55-35 with Sam Masters scoring a 15-point maximum.
Zibi Suchecki was also unbeaten from five rides, but it was a less successful day for the GB duo in the visitors' side with Drew Kemp scoring two points and Scott Nicholls one.
Kemp now prepares for Thursday's FIME European Under-23 Team Championship semi-final at Stralsund, where Great Britain face Sweden, the Czech Republic and hosts Germany.
Tom Brennan leads the side along with Leon Flint, Anders Rowe, Kemp and Dan Gilkes.
Only the meeting winners will join France, Poland and Denmark in the Final at Macon on July 22.