EUROPEAN REVIEW / WORLD CUP PREVIEW
Great Britain head into their first FIM Speedway World Cup campaign since 2017 with the initial aim of a semi-final win in Wroclaw on Tuesday.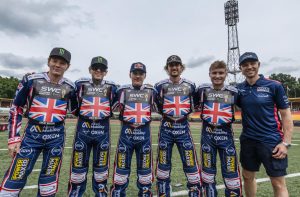 Image courtesy of Taylor Lanning Photography
The tournament returns to the schedule for the first time in six years, with the SON period seeing GB strike gold at Belle Vue in 2020 and Silver on two other occasions – including at Wroclaw in 2018.
But it is 1989 since the Lions last triumphed under the team format, when the event was badged as the World Team Cup, whilst their best result in the World Cup era was runners-up again at Belle Vue in 2016.
Poland staged and won the last World Cup at Leszno in 2017, and they go into the tournament as favourites having won six of the previous nine competitions under this format.
The Poles have won the SWC eight times in total with Denmark on four, Sweden on three and Australia on two – the inaugural tournaments in 2001 and 2002.
But GB have three Grand Prix riders in their ranks with Tai Woffinden, Dan Bewley and Robert Lambert all lining up alongside Adam Ellis and Tom Brennan.
Woffinden and Bewley are on their home Ekstraliga circuit, whilst Lambert also has a good record at the venue, as they look to secure GB's first medal outside the UK under this format since 1992 when they finished third at Kumla.
Woffinden and Lambert have extensive World Cup experience, Lambert making his debut at Vojens in 2015, whilst Bewley, Ellis and Brennan all make their debuts although Ellis was an unused reserve in 2016/17.
Opponents in Tuesday's first Semi-Final are Germany, the Czech Republic and Sweden, with the winners making it straight to the Final and the next two going to the Race-Off.
Semi-Final 2 on Wednesday features Australia, Denmark, Finland and France with hosts Poland joining the competition in the Final.
Meanwhile, the last round of PGE Ekstraliga fixtures before the World Cup break produced a result unseen so far in 2023 – a defeat for leaders Wroclaw.
The title favourites' 12-match winning run finally came to an end at Leszno where they were beaten 48-42 with the absence of the injured Piotr Pawlicki a major factor against his old club.
Janusz Kolodziej starred for the home side with 14 points from five rides, whilst Artem Laguta led the way for Wroclaw with 13.
Bewley won his last two rides to finish on seven from five, whilst Woffinden totalled 7+1, also from five, and was involved in a last heat decider.
Wroclaw needed a 5-1 to draw, but Kolodziej and Grzegorz Zengota took a 4-2 over Laguta and Woffinden to kick off the celebrations amongst the home crowd.
The result was a huge boost to Leszno's hopes of a top six finish, as they now hold a two-point lead over rivals Grudziadz who lost 41-49 at home to Gorzow.
Oskar Fajfer (11+3) and Anders Thomsen (10+1) led the way for the visitors, whilst Nicki Pedersen won his first three races for GKM and finished on 11.
Despite the defeat, Ekstraliga survival is guaranteed for Grudziadz as Krosno lost 58-32 at Torun and are now officially relegated back to Division One.
Lambert warmed up for the World Cup with a 14+1 paid maximum for the home side, whilst Patryk Dudek and Emil Sayfutdinov both scored 12-point maximums, leaving Jason Doyle (10) and Vaclav Milik (9+1) doing the bulk of the bottom side's scoring.
Elsewhere, Lublin gained a comfortable 54-36 win over Czestochowa with Dominik Kubera, Jack Holder, Fredrik Lindgren and Bartosz Zmarzlik all in double figures, although none scored maximums due to Mikkel Michelsen scoring 11 points including three wins on his old home track.
The results mean Gorzow are now favourites to finish third over Czestochowa, whilst Leszno are likely to clinch a play-off place as their last match is at Krosno whereas Grudziadz have to travel to Czestochowa.
In Division One, leaders Zielona Gora were given a tough battle at bottom club Poznan, trailing by five points at the halfway stage and only clinching a 47-42 victory in a last heat decider.
Przemyslaw Pawlicki was excluded from Heat 1 for bringing down Kevin Fajfer, but he reeled off four wins after that, whilst Rasmus Jensen scored 10.
Meanwhile Ostrow shot up to second place with a 50-40 win at Rybnik with both Tobiasz Musielak and Francis Gusts in the major points.
The two clubs are on 18 points overall along with Bydgoszcz, who took a 46-43 win over Landshut although the German side collected the bonus point thanks to a 15-point haul from Dimitri Berge.
It means there is still plenty to race for in the final round of fixtures as Landshut (12), Gdansk (12) and Lodz (10) will contest the last two play-off places, whilst Lodz also face the possibility of relegation with Poznan on 8 – although that would require Poznan to win at Landshut.
In Division Two, Opole continue to lead the way after an emphatic 56-34 win at Rawicz with Ellis also in good form ahead of the World Cup with 8+2 from four rides. Oscar Polis scored a 15-point maximum.
Second placed Rzeszow were beaten 48-42 at Daugavpils, who are one of three clubs on 11 points with one of them set to miss out on the play-offs. Steve Worrall scored 10+1 from five rides for the Latvian outfit.
Tarnow are also on 11, along with Gniezno, after winning 51-38 at second-bottom Pila, for whom Dan Gilkes picked up three points from four rides.