Ablitt ready to bounce back from 'Challenging' 2019
Newly signed as an asset of the Eastbourne Eagles, the cancelled 2020 speedway season has arguably hit young Nathan Ablitt harder than some as he aimed to kick on from his debut National League season.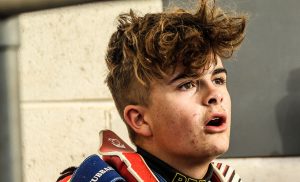 Image courtesy of Taylor Lanning Photography
2019 was Ablitt's first foray into professional Speedway and he admitted that the racing was much more intense than he envisaged and he struggled to adjust coming off his highly successful youth career. The 16-year-old said: "It was challenging. I started the year well with big scores at home and away. But then I had a few crashes and that slowed me down a bit with confidence. I wasn't feeling as confident as I had the past five years on the bike.
"That messed with my head a bit and I was riding very well as a result. I was a bit inconsistent but it's such a big step from youth racing to the National League, I don't think I adapted to it too well. I think I showed at times the riders I was capable of beating and the scores I could achieve but at the same time at the next meeting I wasn't doing too well. Everyone at Kent was really helpful, they didn't put any pressure on me. All the riders helped me in any way they could but at the end of the day, you have to make the steps yourself to improve."
Ablitt was open about how those crashes early on in the season slowed him down somewhat but he acknowledges that having it tough is where he is going to learn the most as he tries to make his way in Speedway.
He said: "The years previous to last year I had won two British Championships in three years, I was going abroad and winning races there as well. So I wasn't used to coming out of the first corner last. I was expecting myself to do better and I don't think I took into consideration how much of a step up it was and how tough it was going to be. And as a result I wasn't prepared for those situations and I would override the bike trying to do better. I learnt more last year than I have throughout my whole career. Being last out of the first corner is something I hadn't done for a few years so that was when I'd learnt the most. More than if I were to lead or win a race."
The complete lack of racing is a blow to his development as he was looking forward to racing for Mildenhall for the 2020 season. But Ablitt won't let that dampen his spirits. "Obviously it's not ideal, but there's not much we can do about it," Ablitt said. "At least we're still able to ride. I've been trying to ride every week with various practice and testing sessions, but I had a crash the other week and broke my jaw so I haven't ridden for a few weeks.
"It was my mistake. I just came into the corner too quickly and locked up as I came out and the bike lifted into the fence. In a way I'm lucky at the time it's happened because I haven't missed any racing because of it. I was told not to race for 28 days so the British Youth Championships fell into that. I don't think I'll be able to compete for the title but hopefully I can do a couple of rounds later in the year."