Adam and believe it...
Adam Ellis admits that lockdown has given him the "hunger" to fight for a place in the Grand Prix Series.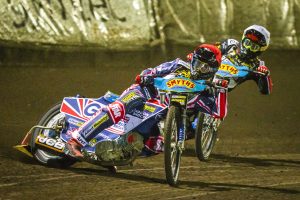 Images courtesy of Taylor Lanning Photography
The French born racer recently began his delayed 2020 season with an excellent 15-point maximum for Polish side Rzeszow. Ellis, 24, switched to the continent with his British Speedway campaign at Swindon and Poole cancelled due to the coronavirus pandemic. But his commitment to racing overseas has seen him rewarded with a potentially career-changing place in the Grand Prix Challenge in Gorican, Croatia on August 22.
Now he's going all out to grab his big opportunity. He said: "I'm really happy to get the call up. It's a big meeting. I feel really good this year, I've only done one meeting but quite a few practices in Poland and it's all working good. It's obviously going to be tough. I've been around for a long time, I feel like I improved in the beginning but I only feel like over the past two seasons that I'm back on track to prove myself. I feel more comfortable in racing situations, now I feel I'm a better all round rider.
"It's been obviously a strange year so far but I've had some time away from Speedway and I've missed it. That has given me more hunger than ever before. I couldn't wait to get back on track after so much time off. I signed for Rzeszow in league Two in Poland. I'm using the example mainly from Jason Doyle. In his 20s he signed in the second division in Poland and worked his way up. In my head it was over a couple of years that I wanted to make some big improvements. I know on my day that if I'm making starts I can beat anyone. I will go to the Challenge to do my best and obviously try and qualify."
Ellis also paid tribute to the backing from Great Britain which has seen him establish a place in the test match team for the Global Challenge Series. The lanky star top scored with 10 points on his last GB appearance with a comfortable 53-37 win over Denmark at King's Lynn last October.
He added: "The Great Britain set-up now is completely different to when I was first involved, it's a lot more professional. It's great the help they provide from the physical side to the mental side and equipment, it's all covered to be honest. As soon as I broke my wrist a few weeks back I had contact from the GB Physio Steve Williams and Performance Specialist Chris Neville.
"The mental side for me has improved with GB, probably without me realising it at the moment. It's made me think a lot more. I feel for the really young guys it's a perfect time for them like Kyle Bickley, Tom Brennan and Jordan Palin. That generation will really benefit. We all take a lot from it without noticing just how much."