ALLIED FOR SUCCESS
GREAT BRITAIN reached their gold standard as World Champions thanks to world class backing from Allied Mobility.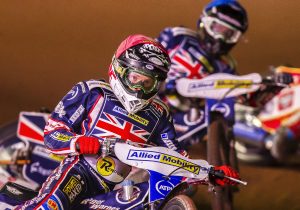 Image courtesy of Taylor Lanning Photography
The national team produced their finest result on track for 32 years by beating Poland to win the Speedway of Nations in Manchester last October.
But the driving force behind their journey to gold has been the partnership with the UK's leading wheelchair accessible vehicle supplier.
The 2022 season will mark five years with Allied Mobility as principal partner to GB.
Great Britain Managing Director Rob Painter admitted: "It's been the perfect relationship since day one. Allied and Great Britain have the same values, same ambition and same drive to achieve the very best.
"We are very grateful for the support from Allied which has been such an inspiration as we have worked to make Great Britain the best in the world."
Allied has navigated the pandemic with typical robust progression, increasing its service and product offering, in tandem with the opening of a new WAV (Wheelchair Accessible Vehicle) Superstore, which has been much valued by customers.
Allied Mobility Brand Manager, Aileen Reilly, revealed: "We're very proud to partner Great Britain's Speedway team. It was amazing to see them become world champions.
"It's been a hugely successful couple of years for Allied Mobility too. We proudly remain the UK's leading wheelchair accessible vehicle supplier, all the while constantly innovating and manufacturing brand-new accessible vehicles to ensure we're providing a wide range of cars to suit different needs.
"We've also continued our investment into a growing fleet of mobile service vans allowing us to provide an annual vehicle service and safety checks right outside our customers' homes.
"Our recently opened WAV Superstore in Coventry adds a new location for customers to come see and try out a host of new and used wheelchair accessible cars, with mobility experts on hand to help and assist in any way they can."
*You can view Allied Mobility's range of wheelchair accessible vehicles, available to buy, rent or lease through the Motability Scheme, at alliedmobility.com.