ANDERS ROWE: A-Z
ROWE admits that a Great Britain call-up changed the course of his career.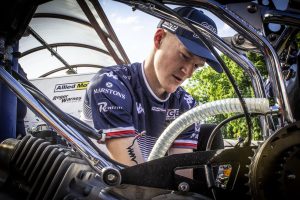 Images courtesy of Taylor Lanning Photography
The hot prospect will be racing for Ipswich, Leicester and starting out at Gorzow in Poland in 2022.
That will mean he's racing alongside double World Champion Bartosz Zmarzlik - and it's all down to a brilliant debut for his country at the end of 2019.
He said: "I think my career out there was really helped by racing for GB against Denmark at King's Lynn at the end of 2019. That showed people what I could do and got my name out there.
"If I keep getting results and getting myself in the GB team, it can only be a good thing to keep proving what I can score at international level.
"I want to do as many events for Great Britain in Poland because I'll have bikes out there.
"Now I'm buzzing again and full of confidence. Even though 2021 was tough I managed to sign for Gorzow.
"I have the belief, my bikes are mint. Last year was a learning year for me and now I want to really step it up.
"I've got good clubs in the UK, Leicester has always been a cool track I've liked to race on. I'm back at Ipswich and I feel like I can ride hard and keep improving.
"I really want to make my mark in Poland. I've signed for a great team and they have one of the best riders in the world in Bartosz (Zmarzlik).
"At the end of last year I went to Gorzow to sign my contract. It was such a nice place to be. It's not too long until I'm out there again to practice for the 2022 season. I also want to practice my wheelies!
"I've met everyone at the club, the engine tuners, team managers and riders. It's been made clear to me that Bartosz is very keen on helping the younger riders which is massive for me.
"It will be cool because I'll be practising with the Ekstraliga team and I'll stay there for as long as I can really. That's where I'm going to learn the most in Poland and I'll dedicate myself to that for the next few weeks."