Back On Track: Tom Brennan
Another young Brit making his Premiership debut in 2021 is Belle Vue's Tom Brennan. The 19-year-old was chosen by Mark Lemon and Belle Vue as their 'Rising Star' for the 2021 season and he is keen to get going at the National Speedway Stadium.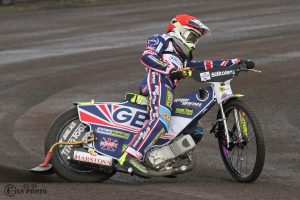 This move is an important one for Brennan as he looks to further his career and cement a place in Great Britain's plans for the upcoming season.

"I'm absolutely over the moon to have a spot with Belle Vue," said Brennan, "It's a massive career step for me and to have the chance to ride a track like that is different to what I know which is great.
"I think Belle Vue is where I need to be to further my career and I'm glad I've got two different types of track as my home venues with Eastbourne in the Championship."
"For me to get the call was a bit of a surprise, I'd been talking to Mark Lemon for a while and it was just casual conversation at first but when the Rising Star Programme started it became more of an option.
"I know I'm not going to win every race straight away. I just need to try and progress in every way I can and learn everything I can."
That maturity is something Brennan is hoping will carry him a long way especially in the early part of what he hopes is a long career in Speedway and he is under no illusions of the challenge that awaits him.
He said: "The biggest threat to myself is me, no one puts more pressure on me than me so I can't be focusing on other riders and what they're doing.
"I need to keep focused on myself and what I'm doing and hope that that is enough when GB selection comes round."
"Any big event in Britain is at Belle Vue, and with the Speedway of Nations too this year, if I start scoring points round there then maybe I'll get the call for that which would be a dream come true."
Brennan will also ride with Eastbourne in the Championship alongside fellow GB Under-21's Drew Kemp and Jason Edwards and the Eagles' team gives him encouragement that he can earn some medals of his own this season.
Brennan said: "To have two top teams that you're in is the dream. I'm over the moon to be back with Eastbourne in the Championship and I know the place well having been there a few years.
"We've got a good blend of youth and experience at Eastbourne and it's looking very good at the moment so hopefully we can get some silverware this year."