Bewley raring to go!
Dan Bewley will race into action competitively for the first time this season with lots of Brit backing.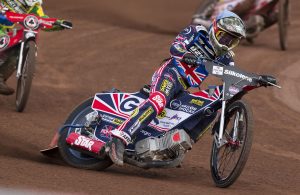 Images courtesy of Taylor Lanning Photography
The exciting youngster makes his full debut for Wroclaw in their opening clash of the PGE Ekstraliga against Lublin at the plush Olympic Stadium live on Premier Sports. That circuit has been the stuff of legends for the national team over the years with a World Team Cup victory in 1980 followed by Gary Havelock being crowned World Champion 12 years later. Great Britain also delivered an epic Silver medal performance in the Speedway of Nations in Wroclaw just two seasons ago.
Cumbrian Bewley, 21, will link up with three-times World Champion Tai Woffinden in the Wroclaw side on Friday night. He admits: "It's helpful having Tai in my team, definitely. I've only been here two or three weeks and he's helped me a lot already so I feel like I've got a lot to gain being with him for sure. It's also good that Max (Fricke) is in the team because we've been at Belle Vue together for some time now. I kind of know the rest of the riders now and I'm happy with them. It'll be cool just to get out there if everything goes to plan. I'm OK now after practice. To begin with I didn't feel that good but I feel a lot better now. But practice is only practice, I'm quite excited for the first meeting."
Bewley also paid tribute to continued backing and advice from the Great Britain team set-up where they have fortnightly online Zoom sessions. It continues on from the successful Performance Camp in Southampton back in March which Bewley attended. He added: "We have been training via Zoom, that kind of thing. It's normally every two weeks with Jeremy (Holt) and Chris (Neville) and the Team Managers plus the rest of the squad. There's only so much you can do in a couple of hours but it's not just a refresh, they bring new ideas to think about as well. For me I kind of feel like I learnt from it that even if I don't think some of it works for me now, it will be important to me as different events happen. So it's all important."
*See Speedway Star magazine this week for full interview.