EUROPEAN REVIEW
Tai Woffinden raced back into form with a brilliant 18-point maximum for Wroclaw in their Ekstraliga win over Ostrow last Friday.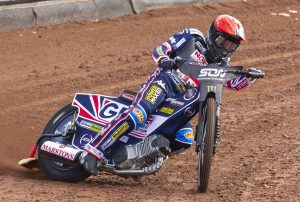 Image courtesy of Taylor Lanning Photography
Woffinden reeled off six successive race victories in a welcome boost ahead of the second round of the Grand Prix series in Warsaw this weekend, whilst Dan Bewley was also very much in the points with 11+1 from six rides, including two race wins.
Wroclaw won the meeting 54-36, which was little surprise given that Ostrow are this season's basement side, and the visitors were further hampered when the in-form Grzegorz Walasek tangled with Michal Curzytek in Heat 8 and suffered a broken collarbone and fractured ribs.
Meanwhile Robert Lambert played a pivotal role in a dramatic 46-44 local derby win for Torun at Grudziadz.
The home side's six point lead was cut back as Lambert was involved in two 5-1s, having scored just two points from his first three rides. He won his final three outings to finish on 11+1, backing up Patryk Dudek (15+1), with Dudek and Jack Holder sealing the match with a 3-3 behind Nicki Pedersen in Heat 15.
Elsewhere, leaders Lublin demolished Leszno 58-32 despite being without the injured Dominik Kubera, with Mikkel Michelsen scoring a 17+1 paid maximum.
It was Leszno's heaviest defeat in six years, and they found themselves 33-9 down after seven races before saving some face in the second half of the meeting.
Bartosz Zmarzlik was another maximum man with 15 in Gorzow's 50-40 win over Czestochowa, which moves them into second place in the table, three points behind Lublin, with Leszno also on seven.
In Division One, the match of the round saw Lodz draw 45-45 with Zielona Gora in a meeting which saw both sides go six points up before being overturned.
It was Zielona's second draw of the season, and they are level on points with leaders Krosno albeit having raced one more meeting.
Landshut moved up to sixth in the table by holding off a late challenge from bottom club Gdansk to win 47-43, whilst Rybnik raced to a comfortable 59-31 win over Gniezno, with Nicolai Klindt and Krystian Pieszczek both scoring maximums.
In Division Two, Chris Harris made his first appearance for leaders Poznan and scored 5+1 from four rides in the 51-38 win at Rawicz, which leaves them three points clear at the top of the table.
Daugavpils are second but lost ground with a 53-37 defeat at Opole, with Adam Ellis top-scoring on 11 points from six rides.
Meanwhile Tom Brennan has been given the first reserve position for the SGP2 Championship after narrowly missing the cut from his qualifier in Sweden.
Brennan scored ten points at Gislaved in what was very much the strongest of the three events, which placed him sixth overall, two points off the four riders who all qualified on the 12-point mark.
Jan Kvech won a run-off to win the meeting, and was joined in the top four by Casper Henriksson, defending champion Jakub Miskowiak and Wiktor Przyjemski. Jordan Palin scored five points and Drew Kemp four.
Sam Hagon picked up three points in Daugavpils, with the qualifiers from the event being Kevin Juhl Pedersen, Daniel Klima, Mateusz Cierniak and Wiktor Lampart, whilst the Krsko qualifier resulted in qualification for Francis Gusts, Mateusz Swidnicki, Jonas Knudsen and Petr Chlupac.
The three permanent wild cards were then handed to the three riders who finished in fifth place in the respective events - Finland's Timi Salonen, Danish star Benjamin Basso, and Sweden's Gustav Grahn.
In the SEC qualifier at Debrecen, Ellis was also on the very edge of making it through, as he scored ten points – winning his last two rides – taking him into a three-man run-off with Andzejs Lebedevs and Michael Jepsen Jensen.
Unfortunately for Ellis he finished third in the race and will now have to wait for any possible withdrawals from the SEC Challenge, whilst Janusz Kolodziej, Dimitri Berge and Jacob Thorssell also made it through.