EUROPEAN PREVIEW - SEC / PGE Ekstraliga Grand Final
One more place in the 2024 Grand Prix series will be allocated on Friday evening following the final round of the Speedway Euro Championship in Pardubice.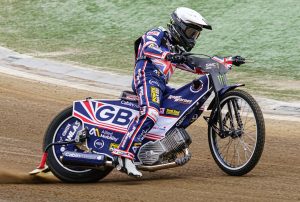 Image courtesy of Steve Hone Photography
Double champion Mikkel Michelsen heads to the Czech Republic in prime position for a third title and to confirm his World Championship future, as he takes an eight-point lead in the series into the meeting.
Michelsen has been the model of consistency so far, finishing second in all three rounds to rack up 53 points to Leon Madsen's 45, with his fellow Dane the only rider with a realistic possibility of beating him.
Madsen goes into the meeting in good form as he too looks to become a treble Champion, with wins a fortnight ago in Bydgoszcz and at the Danish Grand Prix in Vojens last weekend.
The fight for SEC bronze starts with in-form Janusz Kolodziej on 31, chased by Andzejs Lebedevs on 28 and Patryk Dudek on 27, with those riders also looking protect top-five finishes to secure automatic qualification for next season. Kacper Woryna on 25 and Kai Huckenbeck on 23 are the closest challengers going into the meeting.
Great Britain's Adam Ellis has enjoyed a season of progression so far in the SEC, with 18 points so far, and a solid meeting in Pardubice could see him secure a top-ten finish overall.
Attention then switches back to the PGE Ekstraliga Grand Final as Wroclaw host Lublin on Sunday – and Tai Woffinden has been declared back in the line-up for the home side.
That does not as yet guarantee his participation, but it is known that Woffinden has been having intensive physiotherapy on his hand injury, and it would likely be a gamble worth taking for the hosts who go into the second leg 12 points down.
Whatever the situation with Woffinden, they will look to a similarly inspirational showing from Dan Bewley to follow on from his first leg score of 16+1, with more required from their reserves in order to close the gap.
As with last Sunday's first leg, Connor Bailey is also included in the Wroclaw one-to-seven for the biggest meeting of the season.
Lublin will go into the meeting with confidence gained from their 49-41 win on the Wroclaw track in Round 14 back in early August as they look to secure back-to-back titles, and should they achieve it, it will be the first in their colours for Bartosz Zmarzlik.
Elsewhere, Saturday sees the bronze medal fixture between Czestochowa and Torun, with the visitors leading 50-40 from the first leg, and with Robert Lambert looking to get the better of the SEC top duo Michelsen and Madsen.
Meanwhile in Sweden Dackarna raced to a 47-43 win at Vastervik on Tuesday in the first leg of the Bauhaus-Ligan Final, with Bewley scoring nine points from five rides for the visitors.
Lebedevs top-scored with 11+1, and with solid contributions from Madsen (9+1) and Rasmus Jensen (9) it was a four-point lead for Dackarna, who finished the meeting with three successive 4-2s.
Fredrik Lindgren (12) and Jacob Thorssell (11+2) led the scoring for Vastervik, who were without Woffinden and travel to Malilla for the second leg on Tuesday.