EUROPEAN REPORT - Ekstraliga
The PGE Ekstraliga semi-final between Torun and Wroclaw threw up plenty of drama in the first leg, with the scores all level at 45-45 heading into the decider next weekend.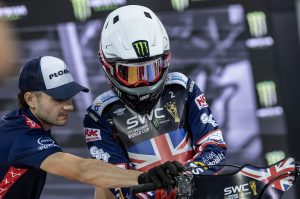 Image courtesy of Taylor Lanning Photography
Wroclaw, including Dan Bewley and Tai Woffinden, moved into an eight-point lead thanks to two early 5-1s but Emil Sayfutdinov was in stunning form for Torun as they made a comeback.
A key 5-1 from Sayfutdinov and Robert Lambert in Heat 10 cut the gap to two points, and a series of 4-2s suddenly put the home side into a four-point advantage.
Wroclaw duo Piotr Pawlicki and Artem Laguta both suffered exclusions for touching the tapes in the last two races, but reserve Bartlomiej Kowalski was the hero as he picked up five points from those races, combining with Bewley for 5-1 in Heat 14 to level the scores again.
Kowalski and Woffinden then sat behind Sayfutdinov, who completed an 18-point maximum in Heat 15, with Lambert at the back to mean the meeting ended 45-45.
Woffinden scored 9+3 from five rides for Wroclaw with Bewley on 6+3, whilst Lambert scored 8+1 for Torun.
The other semi-final was a one-sided affair as Lublin won 54-36 at Czestochowa despite the absence of the injured Jack Holder.
Leon Madsen offered up the most resistance for the hosts with 16 points but the defending champions were clear winners and have more than one foot in the Final.
In-form Jarek Hampel notched 13+1 for Lublin with Bartosz Zmarzlik (11+1), Dominik Kubera (10) and Fredrik Lindgren (10) all in double figures.
In Division One, the second legs of the quarter finals were marred by a serious accident in Ostrow, where Rybnik duo Patrik Hansen and Patryk Wojdylo were involved in an horrific first-bend crash in their opening ride.
Wojdylo was remarkably uninjured and returned to score 9+2 but Hansen was taken to hospital with serious concern over spinal injuries, although the latest update is thankfully encouraging after successful surgery.
Ostrow won the meeting 50-40 but a last-heat 5-1 for Rybnik from Kurtz and Wojdylo meant they went through on aggregate 91-89 – although as things turned out, Ostrow will also be in the semi-finals as the lucky losers.
They join Zielona Gora, who wrapped up a comprehensive aggregate victory over Gdansk with a 59-31 home win to take it 119-61 overall, with maximums for Rasmus Jensen and Rohan Tungate.
Elsewhere, Bydgoszcz overcame Landshut 53-37 on the day with Wiktor Przyjemski unbeaten from four rides, and that gave them a 98-81 win overall.
Zielona Gora will now face Ostrow in the semi-finals with Rybnik taking on Bydgoszcz.
In Division Two, Tarnow edged out Daugavpils for the final play-off place despite losing 46-32 at Rzeszow in a rain-curtailed match, with Anders Rowe scoring 3+1 for the home side, who finish on top of the table.
Daugavpils beat Rawicz 57-33 with Steve Worrall scoring a 10+2 paid maximum, giving them the bonus point by the narrowest of margins, but they finished just outside the top four.
Gniezno finished second to Rzeszow after a 59-31 win over second-bottom Pila, with Sam Masters scoring a 15-point maximum.
Rzeszow and Tarnow will meet again in the semi-finals in a local derby clash, with the other semi being between Gniezno and Opole.