EUROPEAN REVIEW - PGE Ekstraliga
Great Britain's Robert Lambert raced into his best form of 2021 to star in Torun's home win over local rivals Grudziadz on Friday.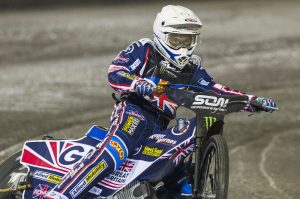 Image courtesy of Taylor Lanning Photography
Lambert racked up 14 points from five rides, only missing out on a maximum to former World Champion Nicki Pedersen who defeated him in Heat 10.

But Lambert then turned the tables on a rider he admits he looked up to in the early stages of his career, by defeating Pedersen in Heat 11 – and that made it a second win of the night over the Dane as he had also triumphed when they met in Heat 3.
Lambert also combined for a 5-1 with Adrian Miedzinski against Przemylaw Pawlicki and Kenneth Bjerre in Heat 5, and rounded off a hugely impressive performance with another win over Bjerre in Heat 14.
It was an excellent evening for Torun, who completed a comfortable 55-35 victory with Chris Holder also on-song with 12 points, whilst Pedersen was left out on his own with 14 for the visitors.
Lambert said: "I struggled a little at the beginning of the season to try and find a bit of consistency. I've been working on it and today it seems to have come.
"I think I was over-thinking things at the beginning a little, and I just took it a bit easier today and tried to relax, but also focus.
"I'm happy with the result and what the boys have done today, and it's very nice to get a home win."
The result lifts Torun into the top four of the Ekstraliga, a position they maintained over the weekend as the Gorzow v Czestochowa and Wroclaw v Leszno fixtures were postponed.
Elsewhere on Friday, Lublin held on for a 46-44 win at Zielona Gora, their third successive victory leaving them second in the table.
It was an extraordinary meeting as the visitors prevailed despite No.1 Grigory Laguta suffering mechanical problems when leading Heat 1 – and then Mikkel Michelsen struck trouble on no fewer than three occasions, finishing just one of his four rides.
But Laguta (11) and Jarek Hampel (9) were backed up by reserve duo Wiktor Lampart and Mateusz Cierniak, who received the nod for Heat 14 – only for both to charge into the tapes.
Lampart was excluded with Zielona Gora collecting a 5-1 in the re-run giving them a chance to draw the meeting – but although Patryk Dudek (15) went clear, Laguta got the better of Matej Zagar in a frantic battle for second place to secure the away win.
In Division One, Bydgoszcz came from 27-33 down to edge out Ostrow 46-44 in a controversial finale when the referee ruled all four back in Heat 15 as Vadim Tarasenko came down on the first bend.
In the re-start, Ostrow's Grzegorz Walasek was excluded for a second warning at the start, before Tarasenko defeated Nicolai Klindt with Andreas Lyager in third for the 4-2 the hosts needed.
Bydgoszcz were then beaten 51-38 at Krosno on Sunday in a meeting heavily delayed due to rain, with Tobiasz Musielak and Patryk Wojdylo both scoring paid-13 for the hosts.
Krosno then had to come from behind against Lodz on Monday to make it two home wins in two days, overturning an early 12-17 deficit to win 49-40 with double-figure scores for Mat Szczepaniak (13) and Andzejs Lebedevs (12).
The results mean Krosno now top the league table, with Gniezno hosting Gdansk on Tuesday.